A 3D printer that outputs chocolate creations? Sounds decadent and delicious. And the complete opposite of using plastics and resin to create 3D prints. The Cocoa Press 3D chocolate printer has been in the works for quite some time, with creator Ellie Rose Weinstein working on iterations, improvements, and refinements since 2014.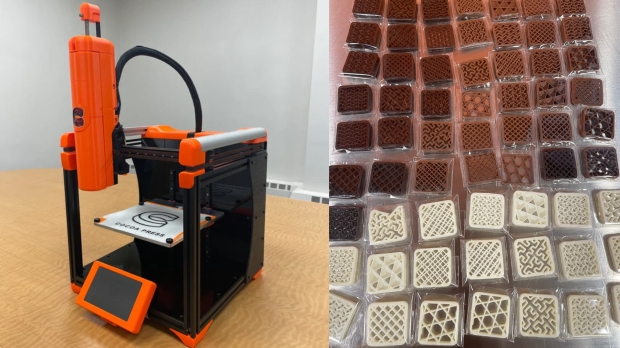 And the Cocoa Press 3D is available for pre-order now with a deposit of USD 100 - with DIY kit shipments shipping in Fall 2023. The complete chocolate 3D printer costs USD 1,499 and, as per above, will arrive in a DIY kit for assembly. There are also "Professional Packages" starting from USD 3,995, shipping in early 2024.
The official site notes that the Cocoa Press DIY kit is "intended for users with prior 3D printing experience" and features an assembly time of around 10 hours.
On the plus side, "no previous electronics experience is required," which is excellent news for chocaholics looking to get into the 3D printing game. However, the installation will require a 3D printer to print some parts, which sounds like Chocolate Inception.
It's also easy to clean, with chocolate only touching four parts that can be removed without needing tools - very cool. The 3D printer as a custom chocolate creation kit is an excellent idea, and like 3D printers, it allows for the creation of intricate designs without the need for molds. It features a 0.8mm nozzle, meaning you can create anything and resist the urge to eat it.
Printing is easy, too, with the process described as follows.
Load chocolate into the printer and preheat for 15 minutes

Browse our designs, find a design online, or create your own

Use PrusaSlicer to slice the design into layers for printing

Press print and watch your creation come to life
Using 70g chocolate capacity cartridges, chocolate builds feature a maximum 140mm x 150mm x 150mm volume, with the device's overall footprint being 365mm x 315mm x 700mm.
For budding and professional chocolatiers, no doubt the Cocoa Press 3D chocolate printer will be one of those "got to have" items.