The new GeForce Game Ready 531.41 WHQL driver can now be installed via the GeForce Experience app or directly from NVIDIA. If you plan on jumping into this weekend's Diablo IV Open Beta, it's big.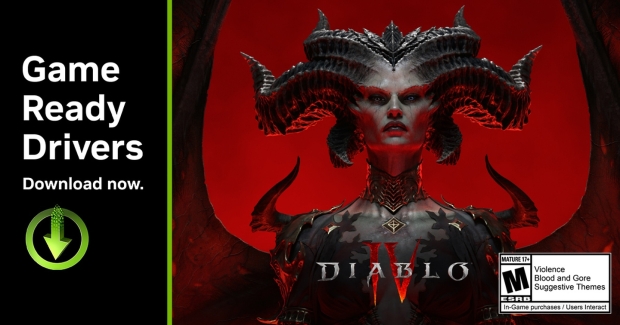 With the Early Access beta from last weekend being one of the most talked about gaming experiences for 2023, Diablo IV is shaping up to be one of the year's biggest releases. The Open Beta kicks off on March 24 via Battle.net on PC, and the GeForce Game Ready 531.41 WHQL driver adds DLSS 2 enhancements for those rocking a GeForce RTX graphics card.
As per NVIDIA, with DLSS 2, players will "experience Diablo IV at the highest detail levels and resolutions," which is awesome to see, as normally, Betas for games don't warrant driver support. At launch on June 6, Diablo IV will also make use of DLSS 3 and Frame Generation, with ray-tracing support also on the cards.
The new driver also adds support for Cyberpunk 2077's new Ray Tracing: Overdrive Mode, coming to the game on April 11, which will enhance the ray-traced lighting and visual effects with full path tracing and DLSS 3 for the GeForce RTX 40 Series. There's also support for Forza Horizon 5's new DLSS 3 update coming on March 28, which NVIDIA notes allows all GeForce RTX 40 Series graphics cards to "break the 120 FPS barrier at 4K with every setting maxed out."
Again, this is a big one in terms of game support, and the new GeForce Game Ready 531.41 WHQL driver also adds support for Deceive Inc. (with DLSS 2), Resident Evil 4 Remake, Smalland: Survive the Wilds (coming March 29 with DLSS 2), and The Last of Us Part I (coming March 28 with DLSS 2).
The driver also updates GeForce Experience's Optimal Settings program, which is a one-click feature to choose optimal visual settings for your PC setup, with new titles added. Kerbal Space Program 2, Last Epoch, Like a Dragon: Ishin!, and Wo Long: Fallen Dynasty. This is a great little feature, with NVIDIA noting that there are now over 1000 titles supported.
Finally, there are some bug fixes with the Adobe app stability issues being resolved, alongside some fixes for Forza Horizon 5, Portal with RTX, and Horizon Zero Dawn.
Fixed Bugs

Adobe application stability issues using 531.18 (4008751)

Enscape crash at startup with 531.18 (4008190)

Beamr - Issue with AV1 encoding in PTD=0 mode (3981172)

Derivative TouchDesigner - NVAR: crash when using multi-person tracking (3808674)

(Forza Horizon 5) Rainbow like artifacts in game after driver update (3839021)

(Portal with RTX) "Background application max frame rate" setting is getting engaged while game is in focus (3897352)

Disable Horizon Zero Dawn Resizable Bar profile on Intel platforms (3759681)
You can grab the desktop version here, and the laptop version here.