The newest version of the immensely popular artificial intelligence-powered chatbot ChatGPT has been announced by its developers, Open AI.
OpenAI took to its social channels and to its website to unveil the highly anticipated GPT-4, the underlying technology powering both ChatGPT and Microsoft Bing Chat. For context, both ChatGPT and Microsoft's Bing Chat are currently using GPT 3.5, which, at least on ChatGPT, has been upgraded to GPT-4. This upgrade ushers in a range of improvements from the total amount of words the AI chatbot can produce, increased safety features, more advanced reasoning skills, and basically an overall increase in quality in all aspects.
Notably, OpenAI details on its website that GPT-4 outperforms ChatGPT in every test that they were compared in. According to the website, GPT-4 achieved 90th when it took a simulated Uniform Bar Exam, compared to ChatGPT's GPT-3.5 language model, which scored 10th. When taking the LSAT test, GPT-4 scored 88th, compared to GPT-3.5, scoring 40th. In math, the differences weren't as severe, with OpenAI's newest language model scoring 89th and GPT-3.5 scoring 70th.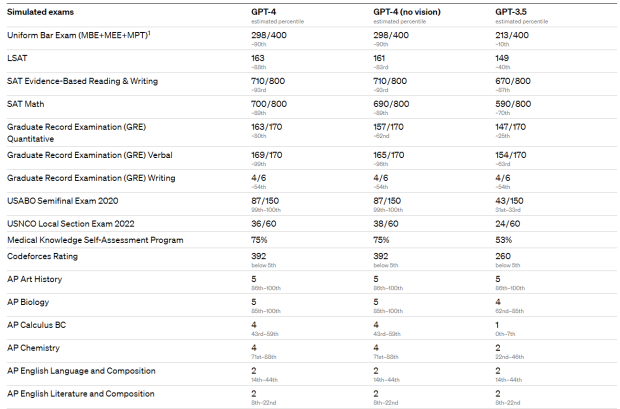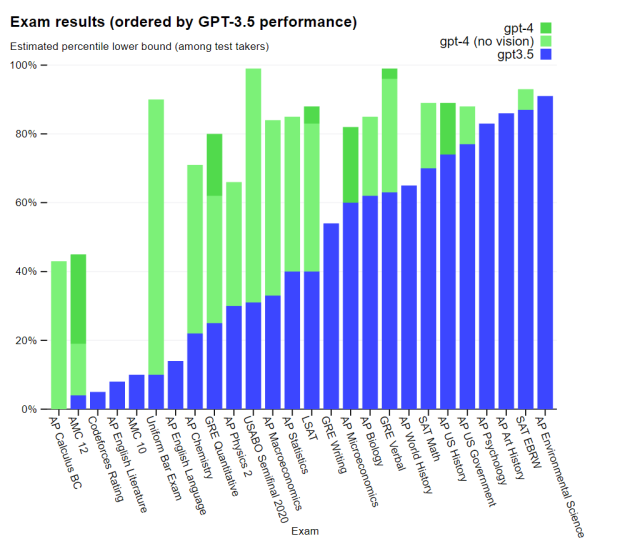 According to Sam Altman, the CEO of OpenAI, GPT-4 is available to users on the GPT-4 waitlist and ChatGPT+ users. The CEO of OpenAI explains that while GPT-4 is far superior to its previous iterations, it still comes with faults that shouldn't be overlooked. Altman warns that while GPT-4 is better than GPT-3.5, it still suffers from many of the same issues, such as hallucinations where the AI will input truth into a response where there is none, as well as biases. Notably, Altman writes on Twitter that GPT-4 does hallucinate significantly less and is less biased than previous versions.
Furthermore, Altman says that this mini public release to those on OpenAI's waitlist and ChatGPT+ users comes with a new "system" message within the Application Processing Interface (API). This new feature allows developers to implement a new level of customization to the AI. For example, if a user wanted ChatGPT to answer every question in the style of Shakespeare, it can now do that.
Other new features a part of GPT-4 are emerging on social media, with one user taking to Twitter to display the AI-chatbots capabilities of being able to scan a napkin sketch outlining a website and creating the appropriate code for that website to work. The video displaying this capability can be found below. If you are interested in trying out ChatGPT for yourself, check out the link here.
In other news, Samsung has been busted faking 'space zoom' photographs of the Moon with artificial intelligence. If you are interested in reading more about that story, check out the link below.