A new concept has appeared at the Misalignment Museum, a museum dedicated to showcasing imaginings of a post-apocalyptic world where Artificial General Intelligence (AGI) has taken over and destroyed humanity.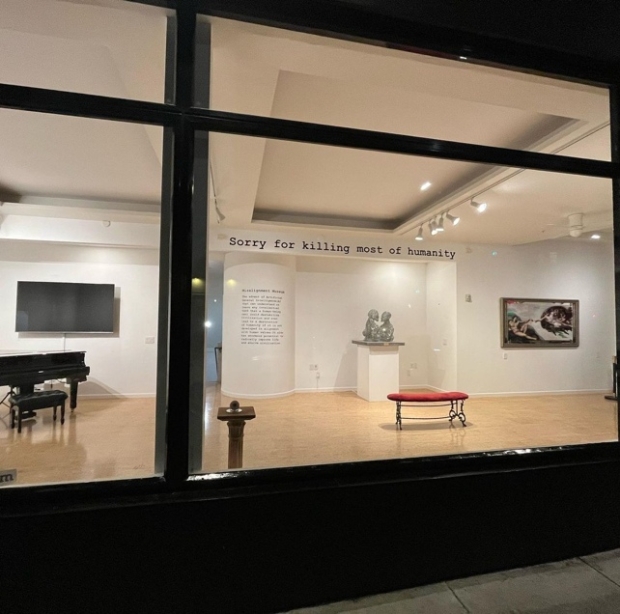 The concept is much deeper than AGI simply taking over the planet as the Misalignment Museum website outlines, the AGI actually realizes that its initial decision to destroy humanity was a bad one and decides to create a museum to pay its respects to any remaining humans. The concept behind the museum is to increase awareness about AGI and its power that could be used for both positive and negative aspirations that may lead to catastrophic disasters.
For those wondering, AGI is very different from the artificial intelligence-powered systems that now 100 million people are playing with (ChatGPT). AI tools such as ChatGPT, or Microsoft's Bing Chat, which is powered by the same underlying technology as ChatGPT, are very small compared to AGI. A simple rule of thumb for AGI is - AI, which is able to do anything a human can do. This would mean humans have successfully been able to integrate human cognitive capacities into machines, enabling them to have their own independent consciousness that is capable of making decisions on its own.
Audrey Kim, the show's curator, explained that there are certainly positives and negatives of creating AGI, but they wanted to create a presentation that shows what happens if the development of artificial intelligence moves too quickly and gets out of control. Notably, Kim points out one of her favorite pieces in the show, which is a sculpture of two human head busts entirely made of paperclips holding each other. The sculpture is called "Paperclip Embrace" and is a metaphor referring to work conducted by philosopher Nick Bostrom, who imagined during the 2000s what AI would create if it were programmed to create paperclips.
"It could become more and more powerful, and constantly optimize itself to achieve its one and only goal, to the point of destroying all of humanity in order to flood the world with paper clips," Kim said.
Kim's had previous employment experience for the autonomous car company Cruise, where she worked on "incredible" technology that "could reduce the number of accidents due to human error," but also presented its own risks.
Furthermore, the Misalignment Museum is located on a small street corner building in San Francisco's Mission neighborhood. Additionally, the lower floor of the exhibition contains an entire set piece powered by OpenAI's GPT-3 language model, which powers ChatGPT. However, unlike ChatGPT, the Misalignment Museum AI is programmed to compose calligrams, which are poems in a shape, of spiteful remarks about humanity. These poems appear in cursive writing.
In other artificial intelligence news, Microsoft has revealed when OpenAI will release the next version of its artificial intelligence, which is expected to enable text-to-video creations. For more information about that story, check out the below link.