A new report by the Chinese tech news site My Drivers states that GPU shipments in mainland China fell by over 40 percent in January 2023 compared to the same period in 2022.
Although both NVIDIA and AMD have recently launched their latest generation of discrete graphics cards with the GeForce RTX 40 Series and Radeon RX 7000 Series, only high-end models are currently available. And as these are expensive cards, they target the enthusiast market rather than mainstream gamers.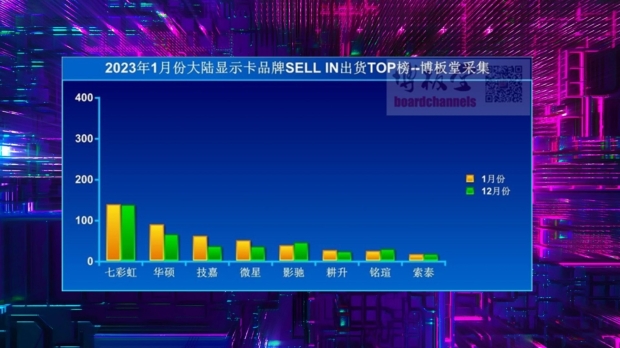 Interestingly, the chart shows that overall shipments are up by around 9% compared to December 2022. The top-selling brand is Colorful, followed by ASUS, GIGABYTE, MSI, Galax, Gengsheng, Maxsun, and Zotac. The green bars represent December 2022, and the orange/yellow represent January 2023.
A downturn in PC-related hardware sales and shipments is not surprising when we've seen similar reports across the entire industry. In the case of GPUs specifically, with crypto mining no longer being profitable, sales have been affected, not to mention the post-pandemic slump, where a recent boom in sales and upgrades is now subsiding.
With more affordable GPUs from NVIDIA and AMD on the horizon, several people could be waiting for something like the NVIDIA GeForce RTX 4060 to hit the scene. Mainstream models like this and the AMD Radeon RX 7600 tend to outsell more expensive models considerably. And with that, the current Ampere and RDNA 2 generation cards are being phased out to pave the way for their replacements.
It remains to be seen if GPU shipments and sales will bounce back in 2023.