Sony has achieved a new high point for first-party game unit sales following a record-breaking holiday quarter.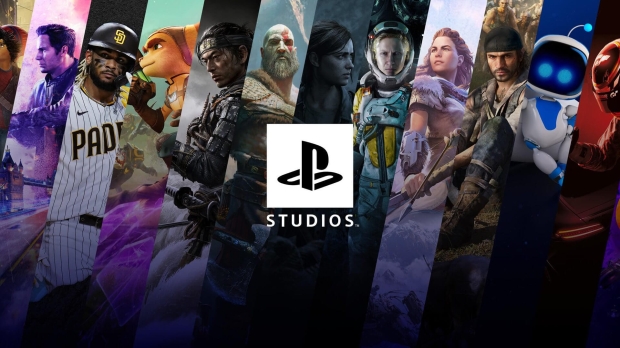 PlayStation's holiday 2022 was the best in history. Sony's games division made $8.8 billion in overall revenues as both software and hardware skyrocketed to $2.38 billion and $3.11 billion, respectively. First-party games represented a sizable portion of total game sales during Q3 and contributed quite a bit to overall earnings and purchases.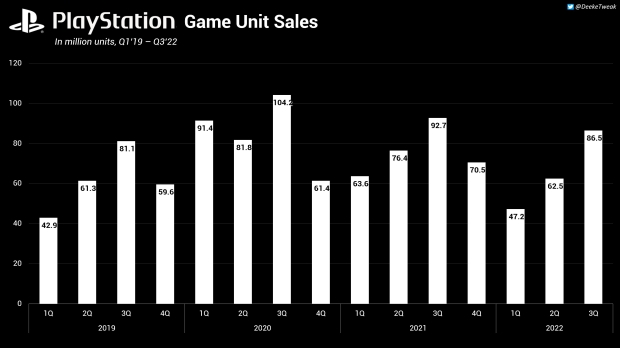 According to Sony's latest earnings report, the company managed to sell 86.5 million PS4 and PS5 games across retail and digital channels. First-party games made up 24% of total sales during the period, or 20.8 million units sold. This represents a new four-year high for first-party game sales, beating out previous years from 2019 - present. The last record was set in FY20 with 19 million first-party games sold.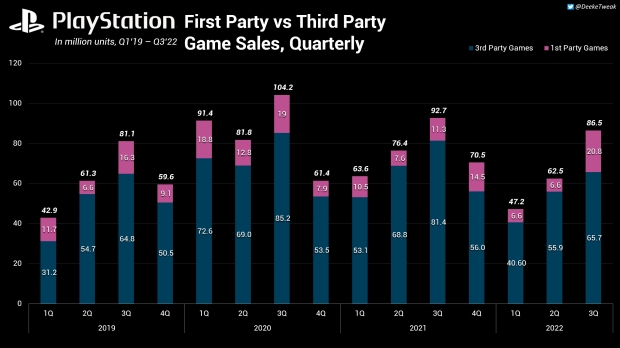 Read Also: PlayStation's physical game revenues surge to new four-year high in holiday 2022
God of War Ragnarok was the largest contributor to these sales. Sony Santa Monica recently confirmed Ragnarok had sold 11 million copies as of February, so it's fair to assume a sizable portion of the first-party titles sold during the October - December period was from Ragnarok.
Other contributors include The Last of Us Part 1 remastered and various other first-party games across both PS4 and PS5 that were discounted during the holidays.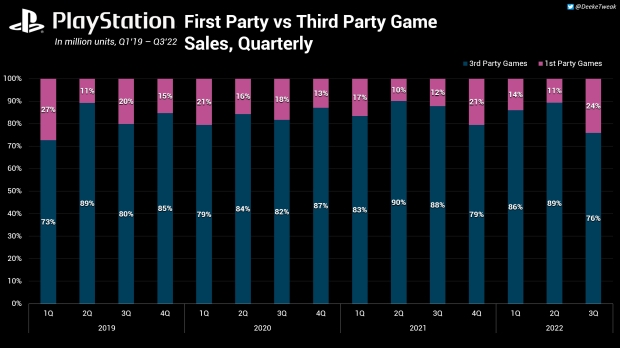 The surge in game sales during Q3 2022 helped push total PlayStation game sales towards breaking the 6 billion sales mark.
It's worth noting that third-party game sales made up the lion's share of titles purchased on PlayStation platforms; consumers bought 65.7 million third-party titles on PS4 and PS5.