CFD Gaming is the first company to introduce consumer-grade SSDs with a 10 GB/s of read speed using the new NVMe 2.0 spec and PCIe Gen5 interface. It's also capable of delivering 9.5 GB/s of sequential write speed, which, when put up against one of the fastest PCIe Gen4-based SSDs, the Samsung 990 Pro, it's a notable improvement over read/write speeds of up to 7450/6900 MB/s there.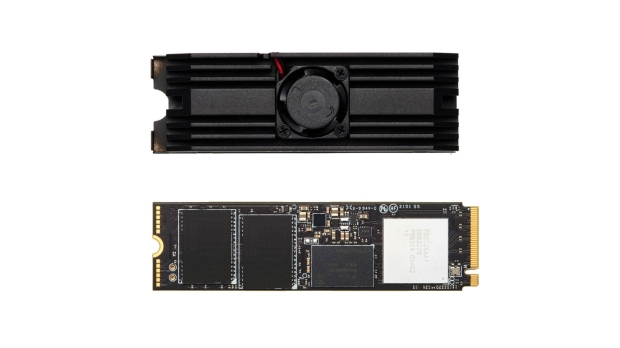 Keeping the comparison train going, pricing for the 2TB version of CFD Gaming's PCIe Gen 5.0 NVMe SSD, 48,980 Yen, or roughly USD 385 (including taxes), represents a 13% jump as per Wccftech. Three models are available; CSSD-M2M4TPG5NFZ (4TB), CSSD-M2M2TPG5NFZ (2TB), and CSSD-M2M1TPG5NFZ (1TB). Currently, only the 2TB model has hit retail.
All three are based on 3D TLC NAND tech from Micron and feature DDR4 DRAM cache and come with what looks like pretty serious cooling, which includes a chunky heatsink and tiny fan. And it comes with an additional cable to connect the cooling to a 5V connector, so there's a need for good airflow around the SSD - which we don't usually see in this space. It makes you wonder if non-heatsink PCIe Gen5 SSDs will become available.
With the underlying hardware made by Phison, it's the first of what will no doubt be many SSDs designed for AMD's new AM5 platform. There has been a delay in bringing PCIe Gen 5 SSDs to market, with the storage solution initially expected to launch alongside or around AMD's new Ryzen CPUs last year. Designed specifically for gaming, it'll be interesting to see how other hardware makers handle cooling and what speed targets they aim for.