With CES 2023 underway in Las Vegas, it's a time for companies to showcase the expected and the unexpected - from advances in AI to the latest in display and everyday computing technology. For sports-tech company Catapult, the annual show means showcasing the world's first smart American football. Which, to be honest, is something that we'd assume would have been here by now on account of what it brings to the table (or field) for sports teams.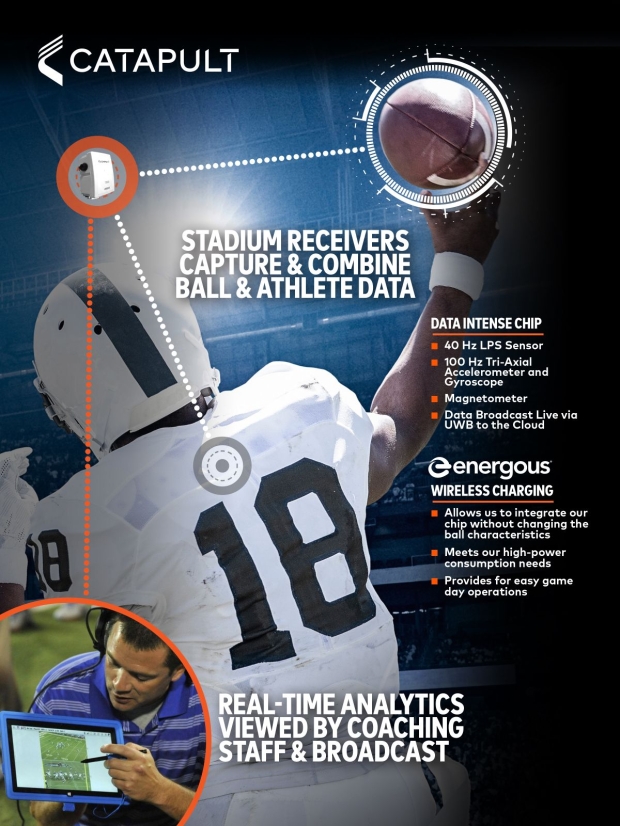 Throw the word "smart" in front of something like a football and you can guess what's happening, tracking a football's movements in real-time with all of that juicy data streaming to the cloud. We're talking over 1000 metrics, created via a combination of accelerometers, gyroscopes, magnetometers, and LPS antennas. By tracking the football teams and coaches will not only be able to see exactly where and how an athlete with the ball moves on the field but also follow the ball's movement right down to trajectory. Catapult has partnered with Energous Corporation to ensure that the football's embedded tracker charges wirelessly, and looks like just another football.
When it comes to wireless charging, Catapult is integrating Energous's WattUp solution that can charge multiple devices, wireless, from a distance. Which, yeah, means no need to take the ball to the sidelines and pop it on a charging dock or pad. Of course one of the biggest concern when modifying something as uniform as a ball, especially when used professionally, is the overall weight. On that note, Catapult has confirmed that a tiny LPS (Local Positioning System) chip is completely sealed within the football; and undetectable.
Developed over two years, Catapult has been testing its new smart football with several teams, including division-1 teams Boston College and the University of Nevada at Las Vegas.
"Catapult is redefining the future of sports performance, and this innovation is yet another example of how we continue to disrupt the sports industry with solutions that truly enhance the game for coaches and athletes," says Catapult CEO Will Lopes. "Just as Catapult pioneered elite athlete monitoring nearly two decades ago, we are yet again putting a new lens on the performance of the best teams in the world while creating the most robust performance ecosystem in football."
With Catapult already leading the charge with player tracking, where it's working with 32 NFL teams, there's no doubt this new smart football will become a mainstay. And if you're at CES 2023 you can check it out in Las Vegas this week (#50726 Venetian Expo Hall).