Thermaltake dedicated VGA Power Supply
650-watts dedicated to VGA.

Published Thu, Dec 6 2007 11:26 PM CST
|
Updated Tue, Nov 3 2020 12:38 PM CST
Thermaltake relentless in their endeavors for the ultimate product range today announced a couple dedicated graphics card power supplies - a 450-watt and 650-watt model.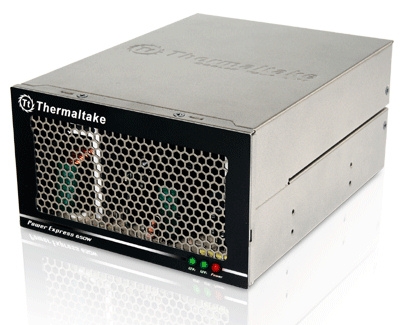 With some high-end graphics cards these days chewing up as much as 300 watts of power, not all main system power supply units will be able to cope with the stress. If you're using a 400 watt power supply for instance and do not particularly want to upgrade it, this is where the VGA PSU from Thermaltake could come in handy.
They are also capable of support SLI or Crossfire dual graphics with two 8-pin PCI-E and two 6-pin PCI-E connectors.
The PSU gains its power from your main power supply by way of the included 24-pin adapter which plugs into the main PSU power cable and then into the motherboard as usual. Height wise, it is about the size of two optical drives and will take up two drive bays in the front of your case - it manages to maintain some style, so it shouldn't look out of place.
Completely independent from the main Power Supply Unit, Power Express is designed to have its dedicated AC power input; thus bypassing the need to upgrade the current power supply in order to meet the power requirement of your extra graphic cards. Both Power Express 650W and 450W are built with two 6-pin PCI Express and two 8-pin PCI Express connector supporting even the most demanding graphic cards configurations available today. Dual 12V rails, each with maximum output of 30A, provides uninterrupted and dedicated power for each connected graphic cards. To further ensure maximum stability and compatibility when combining with any ATX12V main power supply, an extra 24-pin adapter has been included to ensure both the main power supply unit and the extra Power Express can be switched on at the exact same time.

Besides the careful stability and compatibility concerns, the new Power Express has also been designed for convenient installation on the standard 5.25" drive bays without the need of a proprietary chassis. SCP (Short-Circuit Protection), OVP (Over-Voltage Protection) and OCP (Over-Current Protection) power protection features are all standard to ensure stability and reliability.
We'll have a sample in our labs soon for testing!