30in 1,600p display from Gateway
Better than 1080p.
Published Thu, Sep 27 2007 8:13 AM CDT
|
Updated Mon, Oct 19 2020 8:08 PM CDT
Gateway has announced a new display on a press event in the US today and the reason we're telling you about it is because it's massive. The 30-inch ExtremeHD monitor as gateway calls it has a native resolution of 2,560x1,600, or 1600p as Gateway likes to call it.
It's unlikely that this beast will ever be available outside of the US, but hopefully Gateway will allow the rest of us to at least dribble in front of one. It's got a multitude of inputs which consists of a D-sub, DVI, HMDI, component video, composite and S-Video.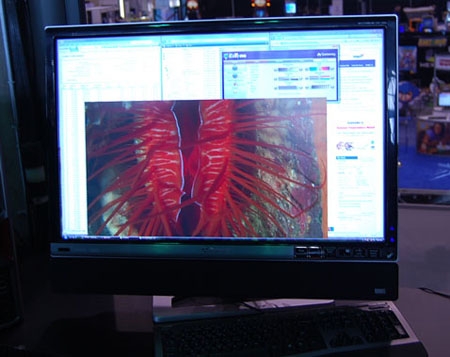 It can do picture-in-picture, even in high-def and it has a built in 6-port USB hub as well as a pair of built in stereo speakers. It would be the ideal companion for those that don't have a huge amount of space at home and want to combine all their display and TV usage into one single large display. It will be available from October 7th and it'll set you back US$1,700, ouch!
More
here