AnandTech compares Conroe to Wolfdale
Penryn Wolfdale at 2.33GHz.

Published Tue, Aug 21 2007 11:15 AM CDT
|
Updated Tue, Nov 3 2020 12:39 PM CST
Anand managed to sneak an early revision Penryn Wolfdale (upcoming 45nm Intel CPU) clocked at 2.33GHz through the cracks.
They
benchmarked it
against the Core 2 Duo E6550 which is also clocked at 2.33GHz - to sum it up, the new Wolfdale dual-core is faster, not so much in general applications but in gaming it skips ahead quite well in certain games.
Pretty good considering it's an early revision and they're not even testing with an X38 motherboard which will take the platform to its fullest potential.
Naturally being based on 45nm process versus 65nm of the E6550, power consumption is down and that of course means temperatures too, all signs so far point to a very positive microprocessor.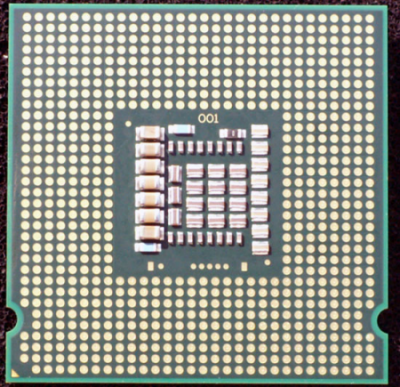 After Intel's price cuts we mentioned that despite Penryn's imminent launch, CPUs had gotten too affordable to pass up building a system now if you needed. Now that we have a general idea of clock-for-clock performance differences between Conroe and Wolfdale, we're not nearly as worried about recommending that you build systems today as we once were. There's no doubt that Wolfdale is faster clock-for-clock, but keep in mind that you won't see Wolfdale until Q1 of next year and the performance advantage simply isn't great enough to justify delaying a purchase by 6+ months if you need a system now.

AMD seems quite confident that Phenom will be able to compete with Conroe/Kentsfield; if the race is really close between those cores, Penryn could be exactly what Intel needs to remain technically ahead in performance. If Phenom is significantly faster than Conroe/Kentsfield, then it doesn't look like Penryn will be able to save Intel. We should know for sure which scenario will pan out in the not too distant future.
Further on, they went on to do some overclocking and the results are pleasing, to say the least. Using a Gigabyte P35C-DS3R (Intel P35) without any BIOS updates, they were able to push the CPU all the way up to 3.22GHz (460MHz FSB x 7 - they were limited in multipliers, so it could go higher when the retail versions are ready and definitely with newer X38 motherboards).