Prism collection from Nokia
If you like geometric shapes.
Published Tue, Aug 7 2007 7:46 AM CDT
|
Updated Tue, Nov 3 2020 12:39 PM CST
Nokia has announced its latest fashion phones today and they're part of the new Prism Series. Both phones are made up of straight geometric shapes and look rather odd to say the least. You'll definitely be noticed if you're using one of these, but if it's because people like your phone or not is a different matter.
Anyhow, onto the technical details, first up we have the Nokia 7500 Prism, which is to the left on the picture below and it has "bright, interchangeable color accents" and a 2Megapixel camera. It has a microSD card memory card slot and will handle 2GB cards. Apparently it has enough battery power to play music for nine hours straight. It should be available some time in Q3 for a price of 210, or US$289.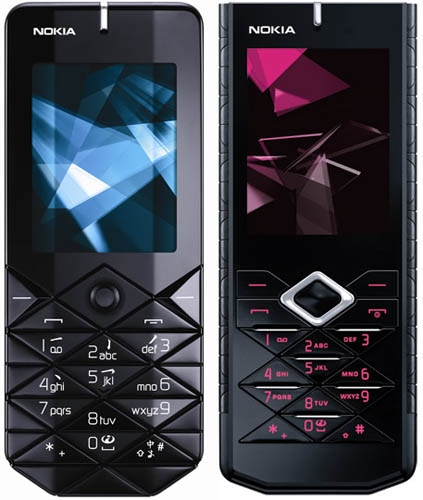 The one to the right is the Nokia 7900 Prism and this is the slightly more modest of the two and it's also the one with the most features. It has an anodized aluminium back cover which is "coin-stamped and laser-etched in Nokia Prism's signature diamond-cut design". It features an OLED display with a "living wallpaper" that changed during the day depending on time, battery and signal strength.
You can choose between 49 different backlight colours to illuminate the 7900 Prism's keypad. It has a dual band 3G and quad band GSM radio, a 2Megapixel camera and 1GB of built in memory for your pictures and music. It should come in at 400 or US$550, again some time in Q3.
Nokia didn't reveal any further specifications of the handsets, but judging by the Euro pricing, these handsets will hit Europe first. There's was no further information on Nokia's website at press time.