We have to appologise to our friend over at the FiringSquad for missing this one, but they posted a review of the Diamond Viper 2900 XT 1GB Radeon HD 2900 XT graphics card last week. It features 1GB of GDDR4 memory clocked at 2GHz DDR, that's some 350MHz faster than the reference cards. The core is also clocked 5MHz faster than the reference cards, altough this is unlikely to add a lot of performance.
This cards boosts the highest memory bandwith of any graphics card to date with 128GB/s. It's also quite expensive at US$549, but 512MB if high-end GDDR4 memory doesn't come for free. As you'll notice from the picture below, this is a 9-inch card, just as the 512MB models. It seems like the 12-inch model was cancelled in the end.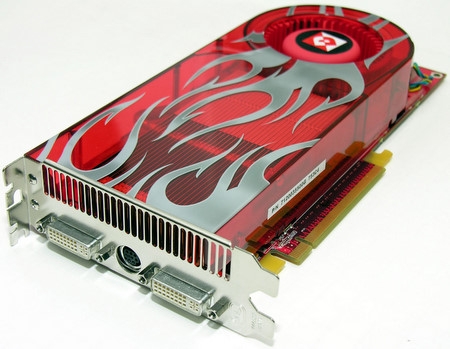 Looking at the benchmarks numbers, it seems like it might be wasted money though. The guys at the FiringSquad tested the card in CrossFire as well as on its own, but it doesn't seem like either mode made much of a use of the extra memory, since the test results are almost identical to the 512MB cards.
It seems like AMD still needs to work a bit on the drivers, as the Radeon HD 2900 XT is being caned by the 8800 GTS or GTX cards in just about every single test. The card performs well in HL2 and oddly enough in Quake 4 and FarCry. We'd suggest you spend the extra $150 on a faster CPU or more memory.
Anyhow, you can read the full review
here
.