Tesla announced its refreshed 2021 Model S electric vehicle teasing that it had 10 TFLOPs of compute performance, but now we know it is a custom AMD RDNA 2-based Navi 23 GPU and its GPU block diagram. Check it out: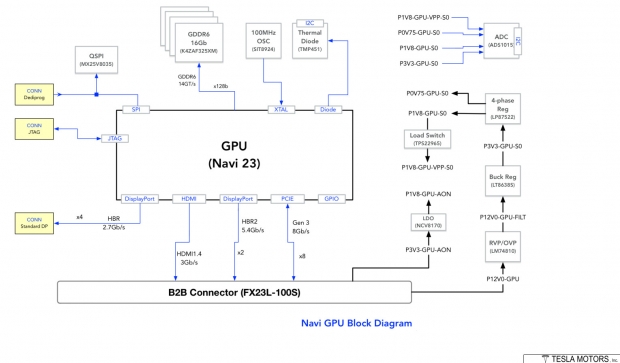 The AMD Navi 23 GPU should be used inside of the 2021 Tesla Model S for its entertainment and navigation systems, with GDDR6 memory (Samsung 16Gb chips) with 8GB in total. The Navi 23 GPU has 10 TFLOPs of performance, which is virtually identical to that of the Sony PlayStation 5 console and its semi-custom AMD chip.
Navi 23 has 32 Compute Units (2048 Stream Processors) with GPU clocks of at least 2.44GHz, while the 8GB of GDDR6 finds itself on a 128-bit memory bus -- making the memory bus of Tesla's new 2021 infotainment system similar to Microsoft's slower Xbox Series S console.
Tesla will be capable of outputting to dual DisplayPort connectors alongside an HDMI 1.4 output -- with it connecting into a PCIe 4.0 x8 slot, with 2021 Model S vehicles having the Navi 23 power the on-board monitors and board-to-board (B2B) connector.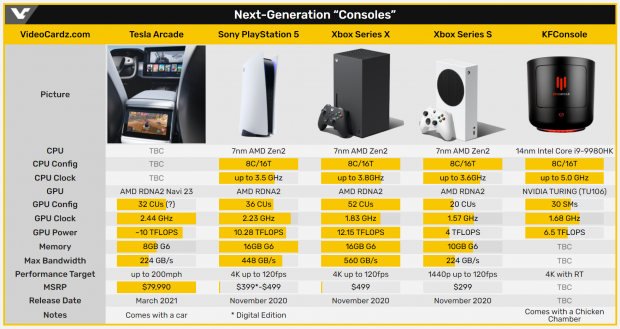 Shout out to VideoCardz for this super-informative, and very funny graph comparing the Tesla Arcade and Navi 23 GPU against the next-gen consoles.