The expandable Xbox Series X/S SSD memory cards will cost $220, which is just more than half of an Xbox Series S console.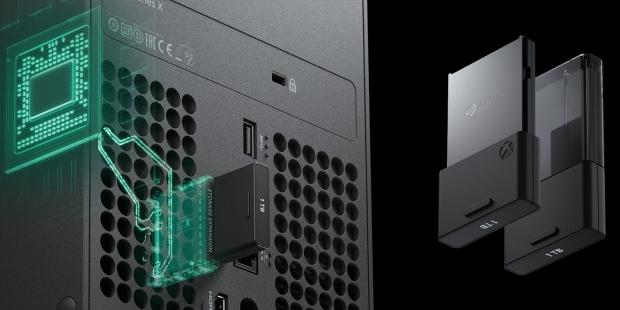 Best Buy listings confirm pricing for expandable 1TB SSD memory card storage will retail for $219 a piece, which isn't a terrible price for flash memory of this caliber (bear in mind Samsung's blistering-fast 980 Pro SSDs are $229 for 1TB capacities). It's also 73% of the Xbox Series S' $299 price tag, which is something to consider if you go the all-digital Series S route.
The listing confirms Xbox Series X and S consoles use PCie 4.0 NVMe M.2 SSDs on x2 lanes, which makes sense given the 4.8GB/sec compressed transfer speed caps. Remember that this memory is proprietary and specially-designed to run DirectX 12 APIs like DirectStorage, Xbox OS tech, and the new Velocity Architecture. Also remember the cards use a CFExpress cartridge with a smaller M.2 drive packed within. CFExpress is typically reserved for high-end digital photography and enthusiast-grade cameras.
The Series S and Series X will support expandable USB 3.1 hard drives too, but any games stored on these drives will cap out at Xbox One X performance. Any games stored on an HDD will revert back to Xbox One-era performance levels via Smart Delivery.
You'll need to launch a game from the next-gen PCIe 4.0 SSD in order to take full full advantage of the next-gen hardware. The hard drives simply don't have the I/O performance to blast data to the RAM, CPU, and GPU.
The drives come with a 3-year warranty from Seagate and are billed as 1TB drives, but the actual capacity will be around 931GB after formatting, and even less if the OS is installed (it won't need to be installed because this is a portable drive).
The Xbox Series S and Series X consoles release November 10, 2020 for $299 and $499 respectively.
Check below for a side-by-side comparison chart for the entire 9th generation of console hardware: