2019's top-earning video game companies: Sony conquers the charts
How do gaming's top billion-dollar titans compare to one another? Let's take a closer look.
Published
5 minute read time
We've compiled a handy chart of the 13 best-earning video game companies of the 2019-2020 fiscal and calendar periods. Who conquers the charts?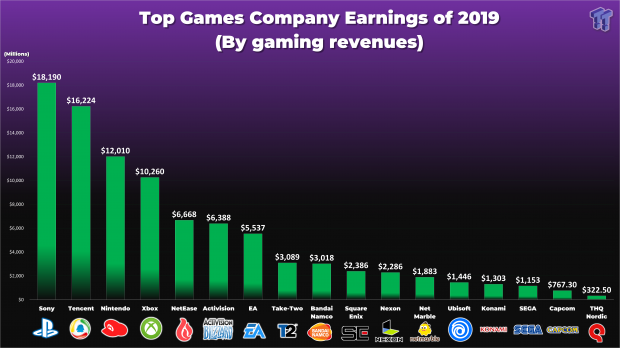 Earnings season is almost over, and rather than keep all the data separate, I decided to throw everything together for a big square-off. The goal is to weigh the performance of gaming's top-earning publishers and games-makers and get a better idea of who's dominating the charts. The results pretty much speak for themselves, but some context is in order.
Let's go over the data real fast. The numbers compare games net revenue earnings, not total company earnings, and conversions are based on exchange rates provided in company documents or the rates when periods ended (e.g. March 31, 2020).
Sony, for example, made more money from games net revenues ($18 billion) than Tencent ($16 billion) and Xbox ($10 billion) did in the FY19 period, but Microsoft total yearly earnings beat both of them with $125 billion.
Sony conquers the charts with massive PlayStation segment earnings across its Games and Network Services, which include game, hardware, and service earnings. Sony made $10 billion from game sales, and moved 245 million PS4 games across digital and physical. Sony also sold 13.2 million PS4s during the quarter.
We won't break down all the company earnings, but you can find that data in the links above.
Interesting tidbits about each company:
Sony's total company profits dropped 36%, and digital raked in 51% of total Games & Network Services segment earnings, or $9 billion

Tencent only makes 30% of its revenue from games

Nintendo profit jumped 30% to $2.37 billion thanks to massive software spikes--software was up 44% to 168.72 million games sold

Xbox revenues typically make ~10% of total Microsoft earnings

Mobile games accounted for 71% of NetEase's FY19 earnings

Activision-Blizzard earned $956 million in mTX in Q1, and $3.36 billion from mTX in Calendar Year 2019

EA reported $3 billion in total profits thanks to a huge $1.5 billion tax compensation

Take-Two's revenues are up to record $3bn in FY2020 thanks to games like NBA 2K20 and GTAO, which had its best year ever, and it has 93 games in dev (but not all will release)

Bandai Namco earned $6.8 billion in FY19, more than EA and Activision, but that includes toys too ($2.3bn was from toys, $3bn from games)

Konami is still raking in strong earnings from PES, Yu-gi-oh, and mobile games

Square Enix makes 56% of its games revenue from mobile

Nexon earned 76% of its yearly earnings from PC, and China made up 45% of its regional earnings

Net Marble earns more money from North America than it does from Korea, and Marvel Contest of Champions made up 17% of its yearly earnings

Ubisoft plans to ship 5 AAA games this fiscal year and predicts massive operating income of up to 600 million Euros

SEGA's physical game sales were up a huge 43% YoY, and digital game sales rose 15%

Capcom reported its third consecutive year of record profits in FY19, and plans to ship a record 28m games this FY

Embracer Group (THQ Nordic) has 118 games in development across 92 dev teams (3,000+ employees)
Related Tags