Capcom just reported its third consecutive year of record profits, raking in a strong $150 million in net income in FY2019.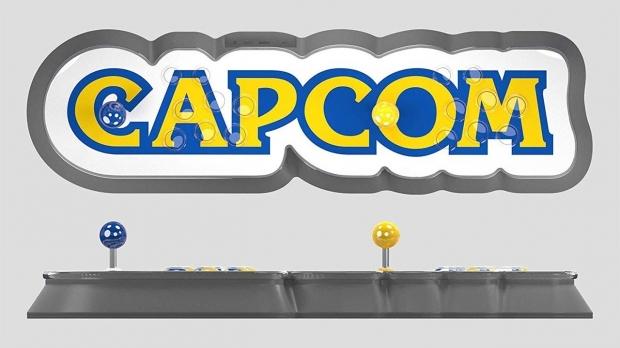 Although Capcom only released a few games last fiscal year, its total FY2019 earnings have once again beat expectations for the third year running. The Resident Evil maven generated a total of $767.3 million in net sales, down nearly 20% year-over-year. Capcom says this drop was the result of lower packaged sales in the year, which makes sense considering Monster Hunter: World was the only game Capcom released in FY2019. Less games means less purchases in the critical holiday period. Digital sales of key games helped offset the thin slate.
Operating income and total profits both spiked by over 25%, though. Operating income jumped to $214.7 million, up 25.8% YoY, driven by continued strong monetization in Monster Hunter World as well as digital purchases of hits like Resident Evil 2 Remake (remember, RE3 Remake released in April, outside of the fiscal year cutoff period).
Total profits jumped by a hefty 27% over FY2018, a previous year that saw substantial growth thanks to Monster Hunter World. Capcom earned total net income of $150.13 in the period ended March 31, 2020 thanks to strong performance of its Digital Contents segment.
Net sales - $767.3 million (¥22.827 billion) down 18.4% YoY
Operating Income - $214.70 million (¥22.827 billion) up 25.8% YoY
Total Profits - $150.13 million (¥15.949 billion) up 27.1% YoY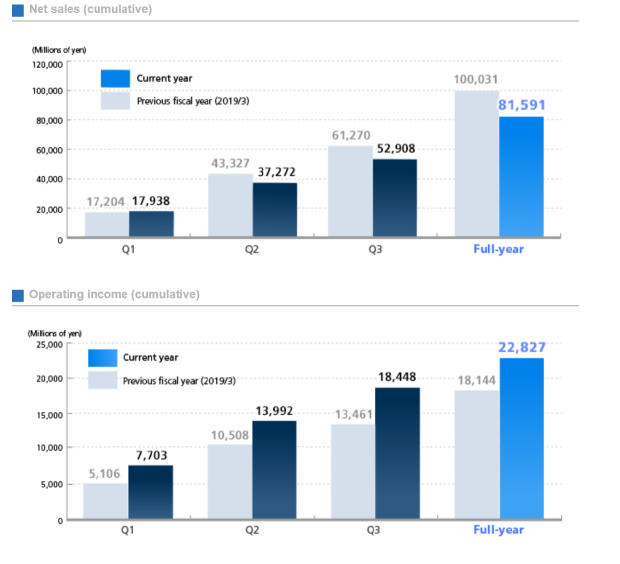 Capcom's gaming segment earned the lion's share, and rightly so. The Digital Contents segment raked in $563.586 million in net sales, down a substantial 27% year-over-year due to lower retail game sales. The game segment represents 73% of Capcom's total revenues in the period.
Big games like Monster Hunter: World, Devil May Cry 5, and Resident Evil 2 all sold quite well in digital channels.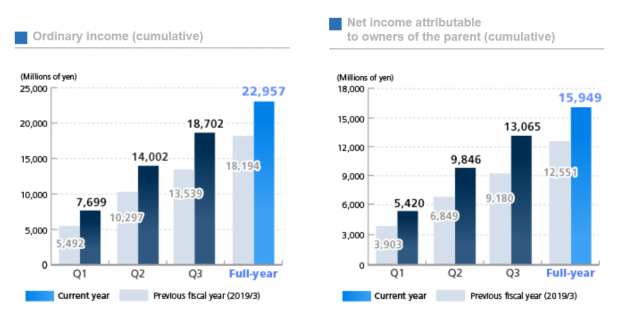 In this business segment, Monster Hunter World: Iceborne (for PlayStation 4, Xbox One and PC) delivered solid sales and served as the key driver of profitability growth owing to a focus on high-margin digital sales. Further, healthy sales of catalog titles also contributed to profit.

Specifically, Resident Evil 2 (for PlayStation 4, Xbox One and PC) and Devil May Cry 5 (for Xbox One, PlayStation 4 and PC), both released in the previous fiscal year, saw continued growth in sales buoyed by a growing user base.

Monster Hunter: World (for PlayStation 4, Xbox One and PC), released two fiscal years ago, also continued to display its long sales life, achieving cumulative sales of 15 million units.
So what's next for Capcom? Can we expect any next-gen games for 2020? Possibly.
Capcom's FY2020 guidance forecasts more record-breaking earnings, which usually indicates something big is on the way. Since Capcom confirmed Monster Hunter World Iceborne is the first and only expansion, it probably won't be MonHun related. It could be something new altogether.

Sadly Capcom no longer tells how many games it plans to ship, so we have to do some guessing. Reports say Capcom will release four games in FY2020, but nothing's been confirmed. One of these games could be rumored Resident Evil 8, complete with next-gen console adoption and optimization.