Dubai Police Force claims to get Tesla's Cybertruck a whole year early
Tesla's Cybertruck will be joining the Dubai police force reportedly in 2020.

Published Mon, Dec 2 2019 1:43 AM CST
|
Updated Tue, Nov 3 2020 11:46 AM CST
If you do a quick Google search of what cars the Dubai police force has available to them, you will find a selection of supercars. While the practicality of these cars might not necessarily be there for every car, Tesla's Cybertruck might actually fit the bill.
According to the official Twitter account of the Dubai Police, Tesla's recently announced Cybertruck is going to be joining their fleet of vehicles. The Cybertruck will be parked alongside Dubai's supercar line, which contains the Aston Martin One-77, Audi R8, Bentley Continental GT, Bentley Bentayga, Bugatti Veyron and more. In the past, residents and outsiders have criticized Dubai's police force for their choice of vehicles, saying that they are more for show rather than practicality.
While that might be the case for the already present supercar line, Tesla's Cybertruck could actually be very practical. The Cybertruck has an extremely thick steel shell, combining that armor with its speed it could make for a great pursuit vehicle that would almost feel like Batman's Batmobile tumbler. The Dubai Police force say that the Cybertruck will be coming in 2020, I find that hard to believe since the Cybertruck isn't going to begin production until late 2021. Unless they are getting an early order?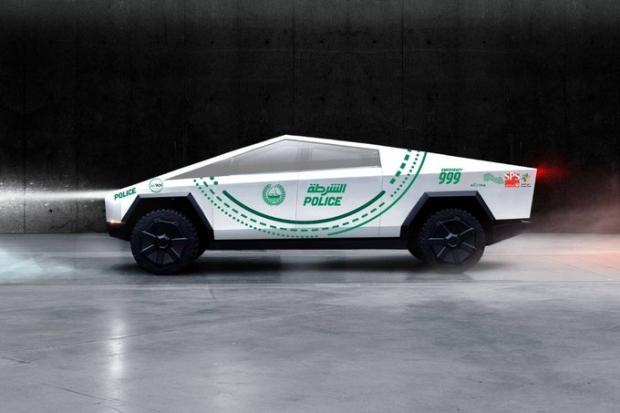 Related Tags