All games are built on compromise. Coders, designers, and programmers constantly make new systems and bring them to game directors, who then whittle things down to what's important. If it makes it into the game, it's often a result of direct compromising. Jedi: Fallen Order had an extra layer of compromise because of Lucasfilm.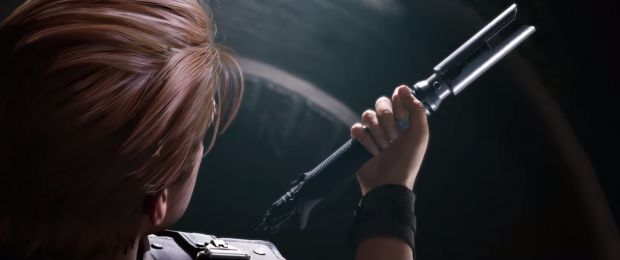 Lucasfilm are the gatekeepers to the Star Wars brand. When anyone makes anything based around Star Wars, whether it be a game or a TV show, Lucasfilm has to approve and give the greenlight. Nothing gets made without Lucasfilm's approval. This has always complicated Star Wars game development, as far back as the troubled fiascoes with Star Wars 1313, which saw George Lucas coming in and frequently ordering big changes, to Visceral's now-cancelled Project Ragtag, and of course Respawn's mega-popular Jedi: Fallen Order.
While watching the big Jedi: Fallen Order dev documentary, I noticed one big trend: compromise. The devs had to constantly look for approval from Stig Asmussen, the game director on Jedi: Fallen Order, but the decisions also had to sift through Lucasfilm. Compromise is needed for iteration, aka the life's blood of video games development. Tons of repetitive Iteration is how developers constantly build off of one another to make a finished product. Games are the result of thousands of hours of experimentation to see what works and what doesn't.
Oftentimes devs simply don't know what actually works until it passes through UXR--User Experience Research, or playtesting. So they're constantly making new builds, adding new updates, and molding the game to see what actually fits. It's a brute process of elimination.
At one point during the documentary, Lucasfilm brand creative Hez Chorba comes in to check out Respawn's work. It gives a closer look at how meticulous Lucasfilm's approval process actually is.
Chorba and other Lucasfilm members looked at every little detail--from the design of an enemies helmet, to the colors of their outfits, every little thing was screened and scrutinized. Of course bigger things like environment styles, force powers, and massive setpieces were also screened.
"Stig doesn't come in and dictate, it's more like 'okay here's what I'm seeing for the game from a bigger vision than just the story, just the art. So how can we make it all work?' A lot of compromising, yea," said Respawn producer Blair Brown,
"When we get approval from Lucasfilm on something that I've created, it's really...it really makes my day," said senior environment artist Kahlil Reedy. "You know, Hez comes in and then says like 'oh that looks really awesome,' that feels really good right? It's like I've nailed it."
"Sometimes it's about finding ways to support different people's opinions and making sure what they start actually goes through," said Hez Chorba.
"Talking through it just helps because we're all lifting Star Wars up. By doing that, we have to find out what Star Wars is about and finding those elegan solutions, for complex Star Wars problem," said Lucasfilm producer Marco Crescenti.
The documentary is definitely worth a watch and gives a vital look at how games are made, and how much of the process is just a series of trials and errors that're approved in a systematic fashion.