That insane Mad Box console probably won't happen
Slightly Mad Studios just got bought out, and the ridiculous native 4K 60FPS Mad Box console is probably dead.

Published Thu, Nov 28 2019 6:49 PM CST
|
Updated Tue, Nov 3 2020 11:46 AM CST
Remember that outlandish games console that Project Cars dev Slightly Mad Studios wanted to make? Yeah, don't expect it to happen.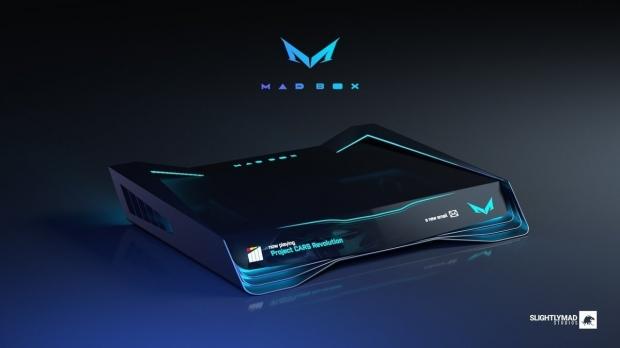 Today Codemasters, the devs behind the F1 series of racing games, bought Project Cars developer Slightly Mad Studios. There was absolutely no mention of the weird and rather ridiculous Mad Box console in the announcement. Sources tell GamesIndustry.biz that Codemasters paid a $30 million fee upfront--$25 million in cash, and $5 million in stock.
After shelling out cash like that, Codemasters probably has absolutely no interest in pursuing the Mad Box console idea. It looks like Slightly Mad is going back to doing what it does best: Making racing games.
Slightly Mad founder Ian Bell made some big promises about the Mad Box, including native 4K gaming, 120FPS VR support, and integrated game engine tools for developers. Spinning up a games console in today's market is pretty much a great way to lose hundreds of millions, especially when you're going up against the PS4, Xbox One, and Nintendo Switch (goes doubly true with next-gen systems on the horizon).
We pretty much knew the console was dead in the water as far back as May, when Bell confirmed that multiple backers pulled out of funding the console.
Codemasters now owns Slightly Mad's Project Cars IP, too. The team has been making Project Cars 3 all throughout 2019 and promises it'll be "revolutionary."
Here's what the execs at both companies said about the acquisition:
"We are delighted to bring such an incredible racing game developer to the Codemasters family, and this unequivocally establishes us as a global powerhouse in the development of racing titles," said Frank Sagnier, Chief Executive Officer at Codemasters.
"We share the same passion and vision and our new partnership will accelerate our growth. With more streaming services coming to market and the next generation of games consoles due in 2020, this is the perfect time for Codemasters to take its next step."
"Our combined racing games portfolio is the envy of the industry and this new partnership will enable us to learn from each other, share resources and take advantage of emerging platforms and technology," said Ian Bell, Founder and Chief Executive at Slightly Mad Studios.
"My team is excited to be joining Codemasters and we can't wait to forge a relationship based on creativity, passion and the desire to create new racing experiences that excite and delight our communities."
Related Tags