Mad Box console design chosen, looks fake
Slightly Mad Studios locks in its final design concept for its new next-gen Mad Box console, and it looks too futuristic to be real.

Published Fri, Jan 11 2019 4:42 PM CST
|
Updated Tue, Nov 3 2020 11:49 AM CST
You know those fake mock-up renders that pop up when searching next-gen consoles on Google images? The Mad Box's final design concept looks even more artificial.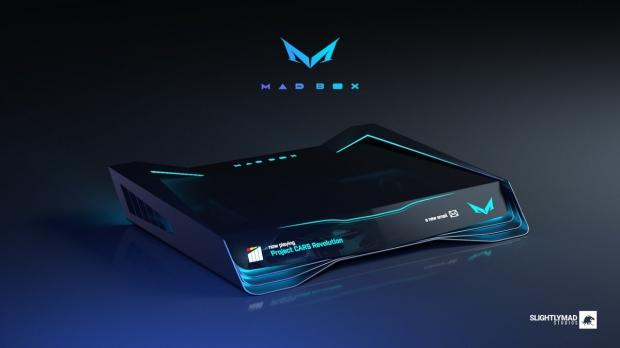 Slightly Mad Studios, the devs behind Project CARS, is inexplicably making a next-gen console called the Mad Box. After teasing multiple designs of the system and making outlandish claims on performance, company CEO Ian Bell confirmed the Mad Box's finalized concept. The result is a futuristic console box with RGB lighting, a touchscreen front panel, curved winged vents, and a rather thin-looking chassis. Ultimately it looks very expensive to mass produce, and Bell notes that the design could be "slightly amended over time."
What's outside matters little, and gamers know it's what inside that counts. Although it's more than 3 years away, the Mad Box will be a powerhouse equivalent to a high-end PC from 2021, Bell asserts, with specs to enable native 4K gaming. The box sounds like an incredibly risky idea that could tank the games developer.
Even if it manages to make the hardware and hit the promised specs, the system will ultimately fail without a strong cohesive ecosystem of services and games to sell. Every sucessful console is a nexus to a wider network of content like multimedia streaming, a rich storefront of games, and community-driven interactivity.
As the failure of Steam Boxes proved, raw horsepower isn't everything.
Here's a few tidbits about the Mad Box:
Devs have access to tools and Slightly Mad's own games engine

Runs VR games at 120 FPS (60FPS per eye)

Will support major VR headsets

May have own forked storefront similar to Epic, Discord, and Steam stores while supporting games from all three
Related Tags