Mass Effect wishlist: What we want to see in Mass Effect 5
Now that we know BioWare is making a new Mass Effect, it's more important than ever to give them feedback.
Published
7 minute read time
BioWare is working on a new Mass Effect game, and lucky for us, it's a long ways away. That gives gamers plenty of time to tell BioWare exactly what they want from the next sci-fi chapter.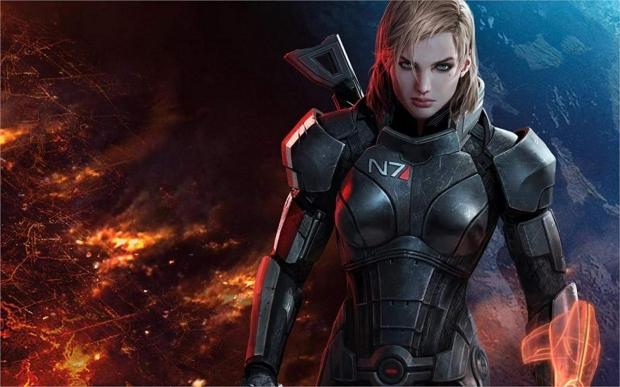 Now that BioWare is in very, very early stages of dev on the next Mass Effect, we thought it prudent to share our wishlist for Mass Effect 5 (or whatever the new game is called).
Mass Effect has lost its way over the years. The original trilogy is excellent, but Andromeda fell short in many ways--while also reinvigorating the franchise in others. Andromeda was jarring and awkward in execution, but also pushed some new barriers and evolved the series. Our wishlist is predicated on the best elements from both the trilogy and Andromeda, and assumes the next chapter will be based heavily around Andromeda's basic framework. We also toss in a few ideas of our own, mainly centered around the potential live service features.
Here's what we want from the next Mass Effect:
Keep Andromeda's combat system
Andromeda's action-based combat was the highlight of the game. It's frenetic, chaotic, and extremely fun when you pull off huge combos. It has its problems, of course, but overall it was a great-feeling experience with pretty decent gunplay.
The original trilogy's cover-based combat was fun in its own right, and certainly made things more linear and plannable, but Andromeda's action-based system is more modernized and fluid. Perhaps we could get some sort of hybrid?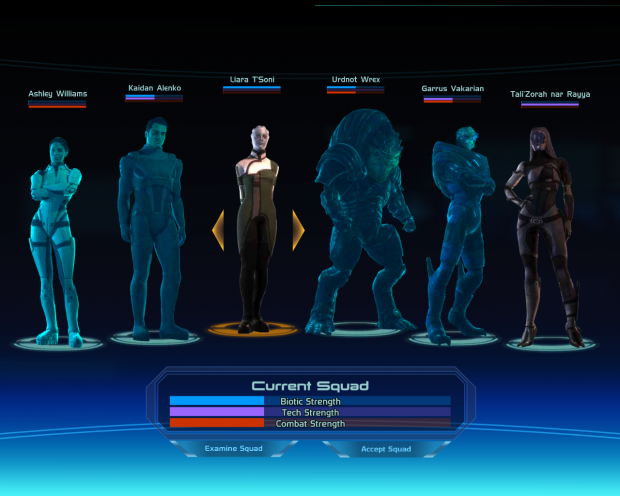 Bring back the original trilogy's full squad controls
Controlling your squad in Andromeda was a nightmare. You could barely control them in combat, and you certainly couldn't tell them which attacks to use. It made Andromeda feel intensely casualized when compared to the RPG mastery of the OT.
This is one of the many fundamental aspects to Andromeda's combat that needs to be changed. Give us full control over all of our squad's abilities, give them a ton of abilities to use in battle, and most importantly, give us control over when they use their skills. This was a huge highlight of the OT's combat.
AI behavior mechanics and custom skill conditions need to be included too. Your squadmates in Andromeda feel useless a lot of the time and this needs changed.
As I wrote in the Mass Effect: Andromeda Review: "My squad genuinely makes me feel like I'm alone on the battlefield. The squadmates are watered-down caricatures that don't contribute much when things get hot. They hardly ever save me, and often times they even interrupt my shield or life-leech regeneration by killing my targets."
Give us more than 3 skills in battle
This was one of my biggest gripes with Andromeda.
Only letting us use three skills in combat massively restricts the game, especially when trying to trigger insane combos. It made it so you had to use ultra-cheap builds like the godly Biotic build.
It also made the absence of manual squad skill triggers all the more noticable. Since we only had 3 skills, that means we had to use two of our three abilities to trigger a combo. Squadmates would randomly dish out skills and sometimes combo off of your attacks, but most of the time they'd just screw things up.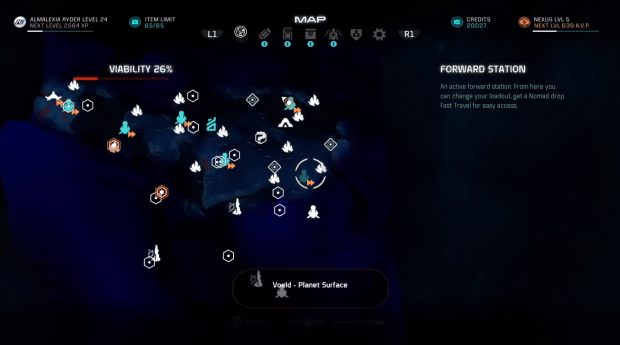 Chill out with crafting and exploration
The original Mass Effect games had exploration, but it was more linear and focused a lot of the time. Yes, there was world exploration, but it never felt so tedious and boring as it does in Andromeda.
Andromeda had way, way, way too much material gathering. It wasn't fun. There was way too much stuff to explore or uncover on the map, with a ton of little side quests that made it feel like an old-school Ubisoft game. This needs to be tightened up to be ancillary to the main focus. Everything needs to serve the ultimate goal: to make the game fun.
Don't try to inject busywork into the game to make it more "engaging." That's not something that should ever be a focus with Mass Effect games. Keep things streamlined, on-focus, and meaningful.
Crafting absolutely has a place in BioWare games, and in RPGs. It's important and I liked Andromeda's overall crafting setup--I just didn't like what I had to do to get the materials (the same goes for Dragon Age: Inquisition).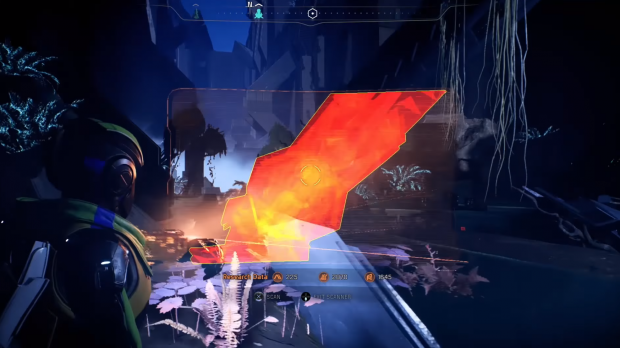 Please, no more scanning
Scanning was a huge part of Andromeda. You had to scan to unlock "research data," a currency that's spent to craft and upgrade items. That meant half the time you weren't even immersed in an area because you're too busy scanning objects and random stuff. It broke the realism and the atmospheres of specific areas, and was entirely unncessary.
Instead, bring back the unobtrusive codex entries from the original trilogy. Make them compelling, unique, something we actually want to read. Make the areas so interesting that we want to know more about them and read the codex entries--don't force us with more busywork that just makes us waste more time.
Let us stack Tech Armor and Barrier
Self-explanatory. I absolutely love stacking all forms of shielding in Mass Effect, and was tremendously bummed with Andromeda didn't let me buff my FemRyder with double defense.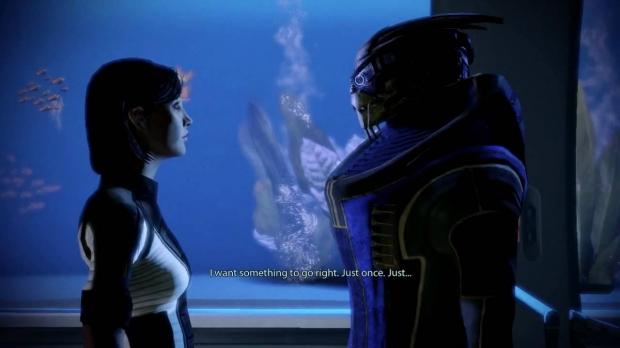 Focus more on characters and story
The original trilogy oozes atmosphere and has some of the best character-building in the entire games industry. You actually got to know your characters, got to feel their pain and cheer during their victories. They put you in difficult places and asked you to do impossible things. Sometimes you sided with them. Other times you didn't. But whatever you chose to do, you felt like it was an actual choice because you were immersed. Things had meaning.
Andromeda didn't really hit this mark well at all. The new characters felt off and half-realized, and a lot of that has to do with how ineffective they are in combat. Having confidence in your team on the battlefield always bled into your feelings for them and made you react a certain way in dialog sequences. You learned to respect them and their abilities, and were more sensitive to their plights (or successes).
Andromeda's core focus seemed to be gameplay and it's obvious from the get-go that BioWare had to sacrifice a lot to get the game shipped. It felt more modernized and slick, but the cost was too high: It cost us the best things about the Mass Effect universe.
Merge Andromeda's and OT's combo systems
One of the best things about all BioWare RPGs is the combo system.
I absolutely love the combo systems in every BioWare game, especially the OT and Andromeda. There's something so satisfying about dishing out tremendous damage with a unique build you conjured up.
While both the OT and Andromeda's systems are basically similar, ie using an ability to "prime" a combo and another to "detonate," I'd like to see a mix of Andromeda's skills with the original skills too. Make something interesting, new, and innovative, all while keeping the basic premise intact.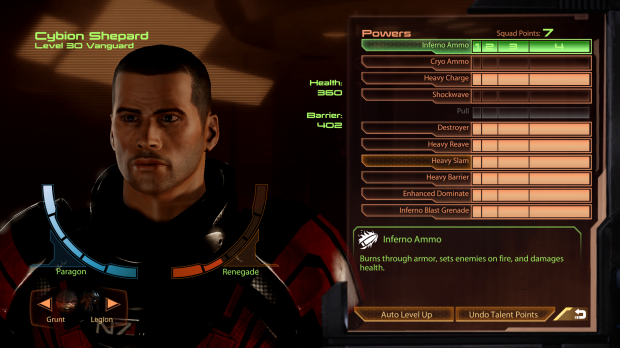 Hone down the skill selection
Andromeda has some awesome skills (I love annihilation, for example), but it just has way too many options. These need to be pared back. Instead, fine-tune, hone, and optimize a smaller set of skills that are more effective.
Make it so every skill has meaning and can do interesting things. Some of Andromeda's skills felt useless and awkward.
Make us pick a class again
In the original trilogy, you had to pick a class that determined what skills you'd use. It was a big decision that carried serious weight. That needs to return because the jack-of-all trades approach with Andromeda makes the game feel less special. It makes the experience less intimate and meaningful because you can be anything at any time. It takes power away from the class itself.
Sure it opens lots of opportunities for different builds, and changes up the combat structure, but combat isn't everything in Mass Effect. That's a huge point that Andromeda missed.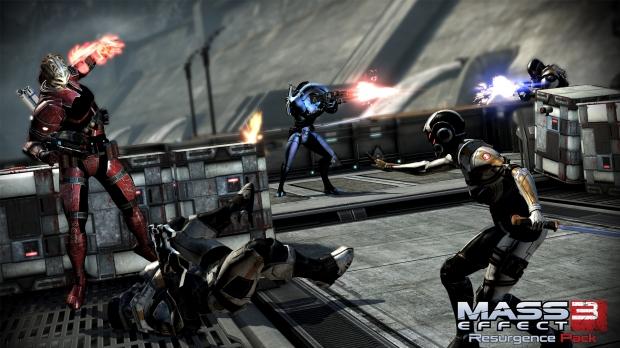 Be careful about live services
Mass Effect typically has two modes that're separated from each other: A singleplayer-only story mode, and an online-based multiplayer mode. The latter is pretty fun and comes with microtransactions, and honestly I think that's okay.
But now BioWare wants to experiment with weaving live services into the story-based gameplay, too.
This could be dangerous. BioWare's hiccups with Anthem cannot happen in Mass Effect. It'd be too devastating.
BioWare's idea is to use live services to update the core game with new quests, storylines, characters, etc. It'd be a new delivery mechanism for DLC. Rather than having to buy DLC separate, gamers could just get the new content natively distributed into the game with updates.
But the problem here is how gamers will pay for that. Will they pay for the expansions, or will they be free? If they're free, will the game be artificially elongated with tons of crafting, grinding, looting, and other engagement tactics that heavily incentivize long play and monetization?
This is a fine line BioWare has to be very, very careful about.
I do think live services could be tremendous for Mass Effect, though. We could see online co-op in some form outside of multiplayer modes, and even a globally-reactive world with rotating activities and the like.
The trick is to make it all feel meaningful, not jeopardize the core Mass Effect feel, not mess up the gameplay mechanics, and most importantly, optimize any sort of monetization system.
Wrap-Up
There you have it. This is our wishlist for the next Mass Effect game. BioWare has a lot of work to do, and the next game won't be out until after Dragon Age 4, which is only in pre-production phases right now.
So if you have any ideas, hopes, or dreams for Mass Effect 5, now is the time to tell BioWare.
Related Tags