Death Stranding's star-studded cast expands with clueless gamer Conan O'Brien.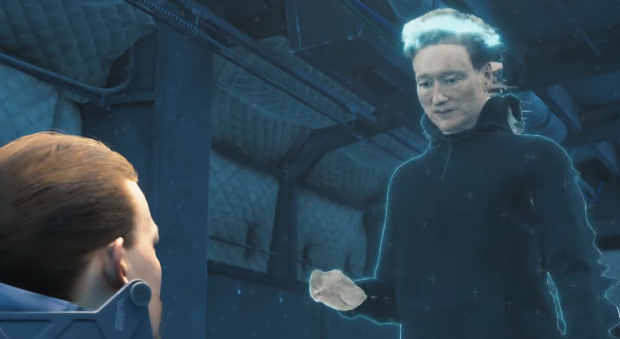 Hideo Kojima's new game Death Stranding is full of big names: Mads Mikkelsen, Norman Reedus, Lea Seydoux, Lindsay Wagner, Troy Baker, and Tommy Earl Jenkins to name a few. Even some of Kojima's personal friends make an appearance, with Guillermo del Toro showing up as the cryptic Deadman, and games media host Geoff Keighley (also Kojima's good bud) is in too.
Now Conan O'Brien will be in the game, too. He won't play a pivotal role like Norman Reedus, but instead be one of the dozens of holographic quest-givers that send you out on deliveries throughout the world.
O'Brien and his team recently visited Kojima's studio and got fully mo-capped into the game. What pray tell does Conan request of our humble Sam Porter Bridges? To deliver a special sea otter cosplay outfit that makes you swim better in water, which is a pretty big deal in Death Stranding.
The delivery mechanic actually serves a vital purpose that's tied to Death Stranding's overall gameplay and lore.
The in-game world is fractured, broken up, and isolated. Sam is charged with uniting the United Cities of America once more in an effort to counter the horrible ghost monsters that stalk the Earth, and to thwart hostile terrorist groups like the Homodaemons.
The idea is that Sam will tie the world together using ropes, not sticks--a philosophy that's manifested with the physical act of delivering parcels across the supernatural world. By delivering important packages, Sam forms a tether or a strand and bond to those around him.
There's also a unique multiplayer spin on gameplay that taps right into this philosophy.
Death Stranding's multiplayer is rather unconventional. Rather than competition, the game's so-called Social Strand System is all about a deep interconnected communal sharing with strangers. You don't actually play with another person, but you can interact with them all the same.
Players share a particular instanced world and can work together to build bases and constructs throughout the world, and even lay down signs to warn others of danger. You can even share gear, parcels, and vehicles with others. Whatever you leave behind can be picked up by another player. And you can deliver aid if someone calls for help near you. But the only catch is you can't actually play with them.
It's like you're in a parallel dimension.
"We're alone, but we're in this together with everyone else," Kojima said in a Tokyo Game Show stream. "You're fighting alone, but you're not alone right? There's someone with you. That's the Strand."
"There are millions of people around the world doing the same thing. You can only get this far by connecting with those people and working together."
So ultimately Conan's side mission may seem like a small silly cameo, but it's actually at the forefront of the game's bigger message: To bring people together with communication, objects, and goodwill.
Death Stranding releases on November 8, 2019 on PlayStation 4.