MachineGames: Epic vs Steam competition is healthy for the industry
When PC game stores clash, everybody wins.

Published Oct 22, 2019 6:24 PM CDT
|
Updated Tue, Nov 3 2020 11:46 AM CST
The PC Game Store Wars are in full swing, but both consumers and developers stand to benefit from this big conflict--at least that's what Wolfenstein developer MachineGames believes.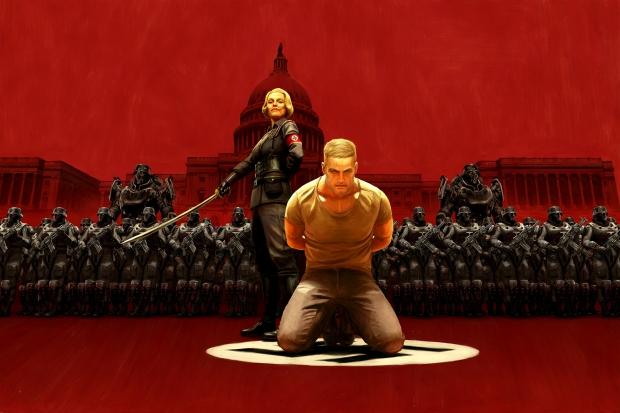 There's a big benefit to Steam and the Epic Games Store's big brawl, at least when developers are concerned. The Epic Games Store signs multi-million dollar deals for six- or twelve-month exclusivity rights, and by doing so, puts pressure on Steam to retire its antiquated 70-30% revenue split model. Devs get to stay in business (especially indie devs) and keep making games rather than being buried under Steam's saturated storefront. The down-side is consumers ultimately have to use multiple launchers to play specific games--something that's already a trend thanks to uPlay and Origin.
Obviously devs are more excited about the Epic vs. Steam battle. MachineGames, the devs behind the excellent new Wolfenstein shooters, is no different, despite not having signed a deal with Epic themselves. "Competition is good for the industry. It's good for everybody, because competition just makes us be better," senior level designer Kristoffer Kindh told PCGamesN.
"The game market gets bigger, with more games getting released every day. My personal opinion is that it's a natural growth, compared to how much game development is actually happening."
Theoretically this sentiment is true. The only real issue is that Valve has yet to do anything to counter the Epic Store. It's basically ignoring it and operating like normally.
Epic's penchant for poaching timed-exclusivity has caused controversy in the PC gaming sphere, namely with heavy-hitters like Borderlands 3, The Division 2, and even Remedy's new game Control.
Gamers aren't happy with having to download an extra storefront platform, but Epic's strategy of giving out free games ensures lots of players download it anyway.
This trend will continue as more and more publishers release their own proprietary games launchers. But unlike Epic with its exclusivity, these launchers will simply give gamers more choice to buy games.
Bethesda's own Bethesda.net isn't the only place to buy new games from the publisher (at least not any more), and Rockstar is likewise using its new Rockstar Games Launcher as a separate optional platform for upcoming mega-hits like Red Dead Redemption 2 on PC.
Related Tags