Google Stadia game streaming set to annihilate data caps, study says
Google's game streaming service won't play nicely with data caps, study finds.
Published Oct 14, 2019 3:18 PM CDT
|
Updated Tue, Nov 3 2020 11:46 AM CST
1 minute & 45 seconds read time
Google's new Stadia game-streaming service will smash through data caps with ease and could end up costing more than consoles in the long run.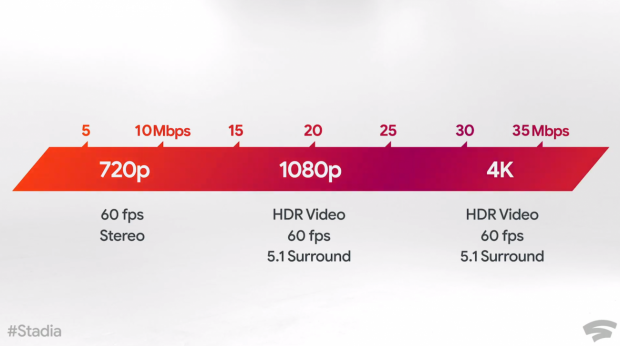 The major selling point of Stadia is playing high-end games without actually owning a console or a PC. You'll be able to launch a game in a Chrome browser on a laptop, or through your Chromecast Ultra, all without downloading anything. But Stadia is totally reliant on your internet connection, so you'll need a decent connection (at least 20mbps for 1080p 60FPS gaming, and 35mbps for 4K). And if you have a monthly data cap, that cost could be pretty high.
According to a new study, over 6 million people would destroy their monthly data caps while using Stadia. The platform beams games wirelessly to devices like Pixel smartphones, laptops, desktops, and Chromecasts Ultra using the cloud, but that data adds up fast. Especially if you're doing any kind of 4K gaming. Most consumers only stream in 1080p even if they own 4K TVs so they don't go over their allotted data limit.
"According to The NPD Group, 34 million gamers play 22 hours per week on average. If these individuals switched to using Stadia as their primary gaming platform, they would eat through even the highest data caps (usually around 1 TB, or 1,000 GB), coming in at roughly 1,386 GB monthly. It is important to note that this assumes that users only use their connections to game with Stadia; it doesn't account for other activities like TV and movie streaming, video chatting, and general browsing. It also assumes a one-user household," the study reads.
Stadia is streaming-only, so users can't skate by and download games like they can with Game Pass or PlayStation Now.
Another major trade off is that every game will be sold separately at $59.99 a piece, but Stadia Pro subscribers will get discounts (and a free game every month).
Stadia could have a rocky launch when it releases in November due to data caps. A lot of the games on the service like Borderlands 3 or even Red Dead Redemption 2 are online-driven service games that depend on tons of playtime in order to make money, so even in that respect the platform is set up to annihilate your data caps.
Related Tags