Elder Scrolls Online will last beyond 2020 with tons of new content
Elder Scrolls Online will carry the franchise well past 2020 with new content.
Published Oct 12, 2019 9:00 PM CDT
|
Updated Tue, Nov 3 2020 11:46 AM CST
1 minute & 36 seconds read time
As Bethesda readies The Elder Scrolls VI, ZeniMax will keep the franchise alive with continued Elder Scrolls Online expansions and content updates.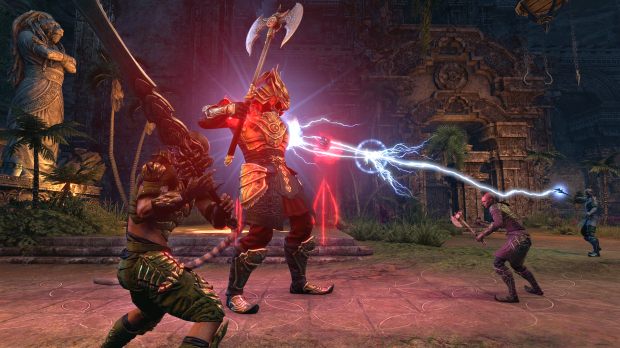 At PAX Australia, ESO creative director Rich Lambert said the MMO shows no signs of stopping. The plan is to make ESO last well into the next-gen console age of 2020 and in the years after, but of course no exact details were outlined. This makes sense considering The Elder Scrolls VI is a long, long ways away (it'll ship after Bethesda's new ambitious Starfield IP) and ZeniMax isn't going to let the huge RPG series go dormant.
So far ZeniMax has made tremendous efforts with ESO. Since its release in 2014, the game has received three major expansions that massively expand the game world (Morrowind, Summerset, and the latest dragon-fueled Elsweyr) and further the story. There's been 11 major DLC drops that also add new dungeons and content to compliment the expansions.
Bethesda and ZeniMax have taken a shine to service games. Just about every game published by Bethesda has service game elements, whether it be outright microtransactions or engagement hooks to keep you playing for as long as possible.
ESO fits the bill quite nicely as a recurring money-maker. Not only is the game still massively popular with over 13 million registered users, but ZeniMax monetized the engagement via in-game purchases that synergize with the MMO grind of crafting, leveling, and higher-level activities.
I'm just wondering if ZeniMax Online Studios is still working on their new MMORPG or not...
As long as ESO has players and can be successfully monetized, it'll continue getting updated and expanded. And there's no worry of it overlapping with the mainline singleplayer Elder Scrolls games because ESO is a prequel set before the events of TES titles.
Related Tags