Red Dead Redemption 2 PC specs aren't demanding at all
Gamers with older rigs can play Rockstar's latest Wild West epic.

Published Wed, Oct 9 2019 10:56 AM CDT
|
Updated Tue, Nov 3 2020 11:46 AM CST
Today Rockstar revealed Red Dead Redemption 2's PC spec requirements, and they're pretty lenient.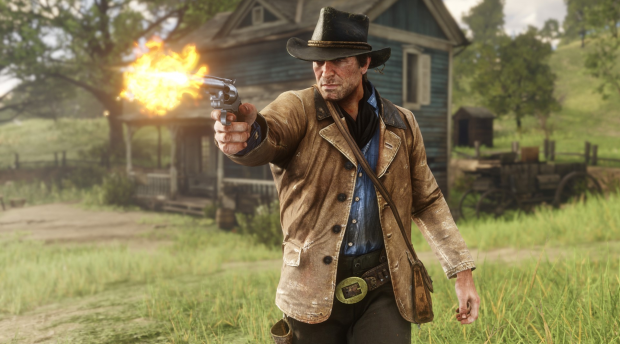 Red Dead Redemption 2 is coming to PC next month, and it could end up being the best-looking PC game of the year. But you won't need an insanely powerful setup to play it--in fact it's quite the opposite. The minimum spec requirements call for an Intel i5-2500K or an AMD FX-6300 CPU, an NVIDIA GeForce GTX 770 or AMD Radeon R9 280, 8GB of RAM, and 150GB of hard drive space (this likely for bottom of the barrel 720p Low settings gaming).
The recommended specs are likewise not too demanding. Intel Core i7-4770K or an AMD Ryzen 5 1500X, an NVIDIA GeForce GTX 1060 with 6GB VRAM or AMD Radeon RX 480 with 4GB of VRAM, and 12GB of RAM. You'll likely get Medium-ish settings at 1080p with these specs, with some ticked on High. Similar with GTA V, expect a huge level of tweakable settings. Take-Two and Rockstar want as many people to play as possible, and it looks like RDR2 on PC is pretty optimized.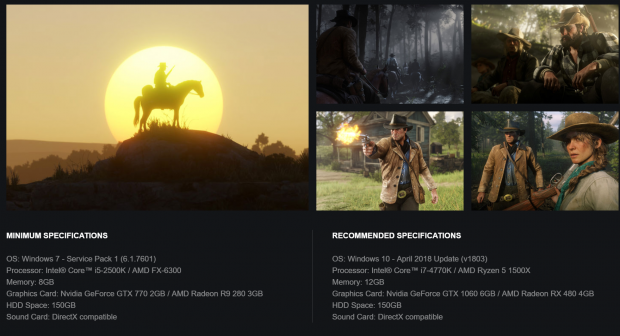 Pre-orders for Red Dead Redemption 2 on PC are now live, but only through the new Rockstar Games Launcher storefront.
Buying directly from Rockstar gets you two free classic Rockstar games and a few in-game bonuses.
Red Dead Redemption 2 launches on PC on November 5 on the Rockstar Launcher and the Epic Games Store. It's also coming to Stadia when the platform launches in November.
The Steam release will come in December.
Related Tags