Today's Outbreak Day, and Naughty Dog celebrates by discussing tons of info on The Last of Us Part II.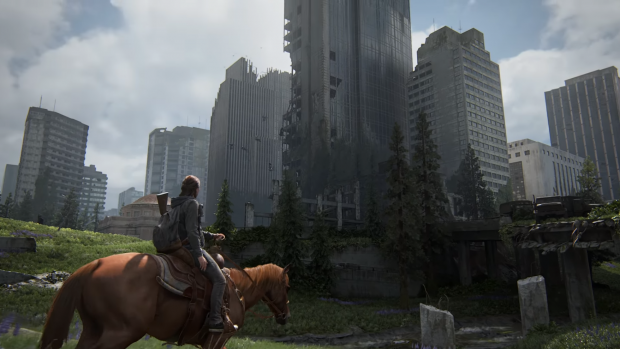 The Last of Us Part II is Naughty Dog's most ambitious game, and coming from the team that made Uncharted 4, that's saying a lot. The sequel will be the largest title the studio has ever made (it'll span two Blu-ray discs on PS4) and makes some big changes to core gameplay, including going 100% singleplayer. "It's definitely the most ambitious in scope game that we've ever made," said co-game director Anthony Newman.
Simple things like traversal have been amped up with more emphasis on verticality, climbing, and the overall action-adventure exploration avenues set forth by Uncharted. Ellie is more agile, fluid, and stealthy in the sequel: she can jump, climb, long jump across wide spaces, dodge-roll, go prone in high grass, and stealthily sneak. Naughty Dog also added a nifty "squeeze through" feature that lets you slide through tight spaces.
"We wanted across the board to make the enemies more threatening, to raise the tension that we started establishing in the first game. Even the lowest class of infected, the runners, are more dangerous," Neil Druckmann said.
There's a new enemy faction, possibly the same one we saw in the original teaser--the one that lynched the buff lady and "clipped" the other girl's wings. They're called the WLF, and they're "kind of like a militia that's taken over Seattle and have a very zero-tolerance policy on trespassers," Newman said.
When it comes to stealth, The Last of Us Part II adds a new dimension to sneaking difficulty.
Before it was all about staying unseen and unheard. Now that guard dogs can smell you and track your scent, you have to pay even more attention to enemies. Ellie can trigger a new visualization type in Listen Mode that shows your scent trail. Gamers can throw off a scent by going through water or specific areas, and can distract dogs with bottles and the like.
The game also introduces a new enemy class called the shambler. It's basically a walking poison bomb that takes a ton of hits before it dies, making it one of the most annoying-sounding enemies so far (except for the dogs, those are the most annoying for sure).
Enemy AI has been significantly overhauled and they'll be harder to trick this time around. Enemies communicate in more tight-knit groups, they aim better, and they're more impervious. This all adds a sheer layer of tension to the experience, making every encounter feel deadly.
"So much of this game is a conversation about psycho violence, and how do we make violence feel impactful to the player," Druckmann said.
There's a lot more in the trailer, so be sure to check it out.
The Last of Us Part II releases on February 21, 2020 on PlayStation 4.
Check below for more info:
Five years after their dangerous journey across the post-pandemic United States, Ellie and Joel have settled down in Jackson, Wyoming. Living amongst a thriving community of survivors has allowed them peace and stability, despite the constant threat of the infected and other, more desperate survivors. When a violent event disrupts that peace, Ellie embarks on a relentless journey to carry out justice and find closure. As she hunts those responsible one by one, she is confronted with the devastating physical and emotional repercussions of her actions.

A Complex and Emotional Story

Experience the escalating moral conflicts created by Ellie's relentless pursuit of vengeance. The cycle of violence left in her wake will challenge your notions of right versus wrong, good versus evil, and hero versus villain.

A Beautiful Yet Dangerous World

Set out on Ellie's journey, taking her from the peaceful mountains and forests of Jackson to the lush, overgrown ruins of greater Seattle. Encounter new survivor groups, unfamiliar and treacherous environments, and terrifying evolutions of the infected. Brought to life by the latest iteration of the Naughty Dog engine, the deadly characters and world are more realistic and meticulously detailed than ever before.

Tense and Desperate Action-Survival Gameplay

New and evolved gameplay systems deliver upon the life-or-death stakes of Ellie's journey through the hostile world. Feel her desperate struggle for survival through improved features such as high-intensity melee combat, fluid movement, and dynamic stealth. A broad variety of weapons, crafting items, skills, and upgrades allows you to personalize Ellie's capabilities to your play style.