Black Ops 4 winds down with new final superhero-focused operation
Black Ops 4's content roadmap winds down as Modern Warfare approaches.

Published Tue, Sep 24 2019 1:46 PM CDT
|
Updated Tue, Nov 3 2020 11:47 AM CST
The last bit of content in Black Ops 4's season pass is coming up, and it's superhero-based.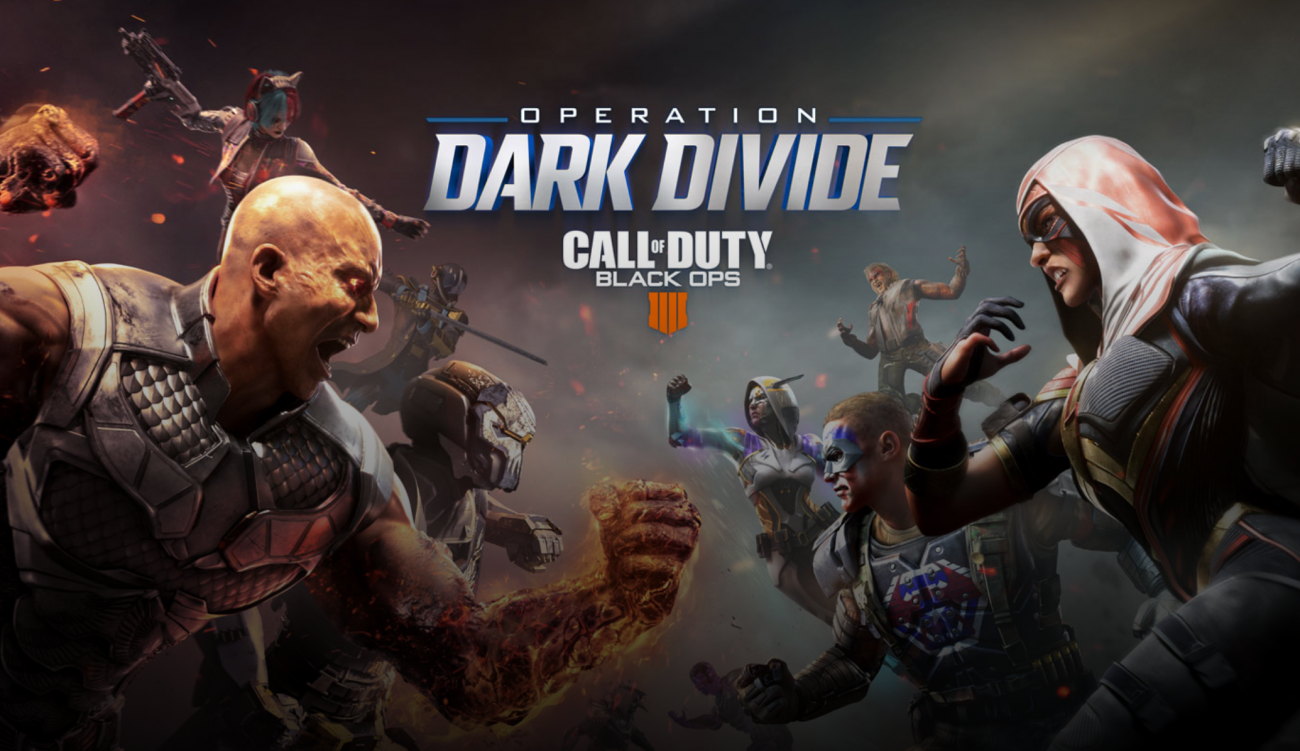 Today Activision announced Operation Dark Divide, a new villains vs heroes operation that serves as the last bit of seasonal content for Black Ops 4. With Modern Warfare coming up, it's important the big new Call of Duty doesn't get overshadowed by last year's game, even if it was a huge success. Black Ops 4's roadmap has predictably petered out to make way for Modern Warfare's release next month.
Operation Dark Divide's content offering hints Treyarch is busily working on Black Ops 5, which is rumored as a Cold War-focused title. Dark Divide doesn't bring any new operators, but it rolls out two new multiplayer maps (Lair and Launch), three new weapons, a bunch of new skins to buy and earn, new Blackout characters, new zombies elixirs and a new perk. There's no new Blackout maps, sadly. The zombies mode also gets its last major storyline expansion, Tag Der Toten.
Black Ops 4 winding down is par for the course when it comes to annualized service games like Call of Duty. Activision's decision to pull Sledgehammer from the main rotating roster of devs has also affected this roadmap; Sledgehammer is now relegated to a support team for CoD games, meaning only Treyarch and Infinity Ward are the main studios making future titles. Yearly Call of Duty games used to rotate between Sledgehammer, Treyarch, and Infinity Ward.
Raven Software and Sledgehammer will assist Treyarch with next year's big shooter.
Check below for more info on what's included in Operation Dark Divide:
New Blackout Content

Main Blackout Map: The apocalypse is over; the rivers of blood have been washed away and the sun shines once more on the massive Blackout map. While it may seem that everything has returned to normal, this is simply a prelude to "Heavy Metal Heroes."

New Game Mode, Heavy Metal Heroes: This limited-time game mode has been torn from the pages of comic books. Reach new heights with thrust jumping, catch some air on ramps around the map, and drop in with a heroic starting loadout complete with body armor and a weapon. Heavy Metal Heroes features vehicle-intensive combat between armored ARAVs, ATVs, motorcycles, and tanks. Find a vehicle and fire a fatal blow at the opposition.

New Vehicle and Equipment, Tank and Flare Gun: The Tank is ready to roll and packs a powerful punch among the vehicles of Blackout. Currently only in Heavy Metal Heroes, the Tank is a high powered weapon that can decimate the competition. The tank can support two players - a driver and a passenger - in the gunner position. Keep an eye out for the tank, or for the Flare Gun, which calls in an aircraft to airdrop one of these armored assault vehicles on your position.

New Weapons: Make some room in your Blackout arsenal; Dark Divide gives Blackout players the chance to loot two more wonder weapons from the Zombies universe - the Savage Impaler and Winter's Fury.

New Black Market Gear

Blackjack stocked up the Black Market with some outfits, weapons, and more loot that's fit for a superhero or supervillain. Highlights include:

Starter Pack: Get this pack to receive Marlton (Blackout Character) from the Victis Crew, the Gorger Weapon Camo, and 3 Duplicate Protected Crates.

Tiers: Earn 50 Tiers of super loot, including the "Nice Catch" Weapon Charm at Tier 1. Unlock some superhero-themed outfits, such as the "Blood Moon" outfit (Outrider) at Tier 15 and the "Cpt. Catalyst" outfit (Battery), as well as a VKM 750 Mastercraft at Tier 25. Reach Tier 50 to earn a Ultra Weapon Bribe!

Reserves: Expand your arsenal with a few new weapons, such as the AN94 Assault Rifle, VMP Submachine Gun and the Echohawk Dual Bore Assault Rifle. Also available are a VKM 750 MK II variant, the "Predator" S6 Stingray Mastercraft, and two super outfits: Nomad's "Lupine" and Crash's "Rigor Mortis".

Blackjack's Shop: During Dark Divide, Blackjack will frequently stock up his shop with loot such as a Paladin HB50 MKII weapon, Spectre's "Spectral" outfit, Firebreak's "Magmageddon" outfit, and Ruin's "Shock and Awe" outfit.

Special Orders: Check in with Blackjack to get some Special Orders: the Grigori Weaver Blackout character, the Stuhlinger Blackout character, the "Black Plague" GK5 Mastercraft, and the "Faberge K" Mastercraft for the KN-57.

New Zombies Features

New Elixirs: While cracking a few zombie heads, break open two new Elixirs available now at the Laboratory:

Secret Shopper: With this Elixir, any wall-buy location can be used to buy ammo for your equipped gun, including Wonder Weapons. In other words, for ten minutes after activating this Elixir, you can go on an ammo shopping spree!

Power Vacuum: Get ready for some spring cleaning: for five minutes after activating this Elixir, the drop rate for all power ups is boosted significantly.

New Perk: Is the undead leaving you cowering in a corner? Turn up the heat with Blaze Phase, a perk that turns you into a charging fireball that knocks enemies back or burns them to a crisp. Equip this perk in the Modifier spot to gain unlimited dash distance at max charge, upon ending your dash release a final damage pulse that knocks down enemies, and also increase weapon reload speed for a serious boost in firepower!

New Black Ops Pass Content*

New Zombies Experience, Tag der Toten: More than a decade in the making, "Tag Der Toten" marks the final chapter in the Zombies Aether storyline adventure. Here, the Victis Crew is transported to a frozen Siberian wasteland. Fend off the undead threat at the site of Group 935's twisted experiments with the help of a mysterious character from the lighthouse as long-hidden secrets of the Aether story are revealed.

New Multiplayer Map, Lair: Our superhero and supervillain Specialists have landed on an uncharted volcanic island where the evil organization "Arkadeus" is about to finish its death laser. Stop Arkadeus' plot before it's too late... or use its deadly laser to vaporize the competition.

Reimagined Multiplayer Map, Launch: Bring the Specialists to the site of a classic fight of good versus evil in this Black Ops Flashback map! The Specialists land at a Soviet base to stop a nuclear missile from launching. Watch out for the exhaust flames below as the rocket prepares for takeoff!
Related Tags