With over a dozen game studios now under its Xbox division's belt, Microsoft may stop acquiring new devs for a while.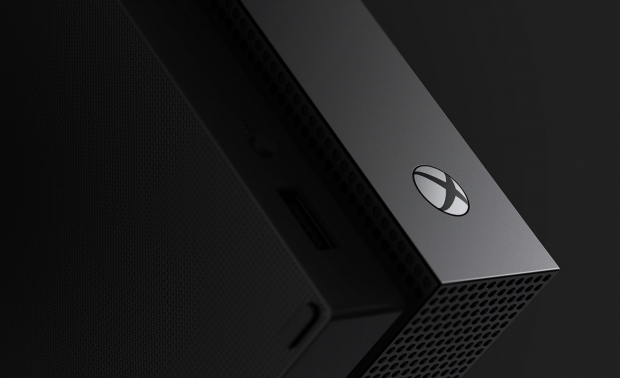 Microsoft's aggressive studio buyouts are set to slow down as the company gears up for the next-gen Xbox console, Project Scarlett. The company currently has over a dozen separate teams under its new first-party Microsoft Studios Global Publishing banner, including new E3 additions like Double Fine, and all of them are working on new projects. (343 is working on Halo 6, Playground might be making Fable 4, Obsidian is crafting new RPGs, and The Coalition is crafting Gears 5).
There's a lot of cooks in the Xbox kitchen right now and instead of adding more chefs, Microsoft wants to see what kinds of dishes its current teams can bake for its cross-platform gaming brand.
In a recent interview with Twinfinite, Xbox exec Aaron Greenberg comments about the studio acquisitions and hints the company will pump the brakes on buyouts. There's a lot of games on the way, Greenberg says, and Microsoft wants to see the fruits of their teams' labors.
"What I would say is, we were very deliberate. I think Phil spoke to this as well: there was a period of time in which we were very focused on adding more content to our first-party studios," Greenberg told Twinfinite.
"It's been exciting and it's been great getting to know all these teams, going out and sitting down with Ninja Theory, or the team at Obsidian or inXile, and seeing the stuff that they're working on now that people know about and the secret things they have in the works that people don't know about yet. We'll in time be sharing more about those."
The content pipeline is expansive, as it should be with some 15 teams working on games. Some, like Halo 6, are AAA endeavors, whereas Ninja Theory's new 3v3 shooter is more AA-based and aimed at Games Pass. But all of these projects will supplement the core Xbox brand, whether it be consoles, PC gaming, Project xCloud or ancillary services like Game Pass.
And some of them will be huge system-sellers for Project Scarlett.
"I think we feel good about the level of content we have coming from our internal studios.
"You never know, but right now I think where we are, with our 15 internal studios, we feel really good about the amount of content we're getting from that. Whether it's supporting Project Scarlett, or supporting Xbox Games Pass on PC and console, we feel like we have a healthy set of content across multiple genres, multiple game types, that will excite our fans."
Microsoft's next-gen Project Scarlett console is due out in Holiday 2020, and the following teams are working on games for the new platform.
343 Industries

Compulsion Games

Double Fine

inXile

Mojang

Ninja Theory

Obsidian Entertainment

Playground Games

RARE

The Coalition

The Initiative

Turn10 Studios

Undead Labs
Project Scarlett confirmed details:
Zen 2 CPU

Navi GPU

4x as powerful as the Xbox One X's 6TFLOPs of perf

Super-fast SSD that can be used as VRAM (likely PCIe 4.0)

Supports 8K resolution (likely media playback)

120FPS gaming

Can deliver up to 40x more performance than Xbox One in specific use cases

Raytracing confirmed

Backward compatible with Xbox, Xbox 360, and Xbox One games

Compatible with Xbox One accessories