Ubisoft kicks off its first quarter with massive digital sales and microtransaction revenues, proving its shift towards online gaming is working extremely well.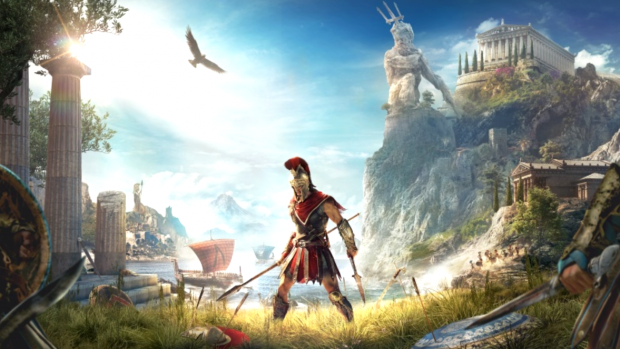 Today Ubisoft announced its first quarter earnings for Fiscal Year 2020, and the results are stellar. The figures firmly cement digital as the publisher's leading breadwinner and Ubisoft couldn't be happier (digital means avoiding retail costs, shipping, etc.).
Thanks to its lucrative engagement-driven live service games like The Division 2, Rainbow Six: Siege, Ghost Recon: Wildlands and even Assassin's Creed: Odyssey, the company managed to pull in 363.4 million Euros ($412.82 million) in total sales revenues the three-month period ending June 30, 2019. This is actually a decrease; both net sales and net bookings are down, but high microtransaction earnings and engagement offset these drops.
Microtransaction, season pass, and subscription revenues are up nearly 20% year-over-year to 150.4 million Euros ($170.85 million). PRI, or what Ubisoft calls Player Recurring Investment, made up nearly half of total net bookings during the quarter. Digital reigned supreme for Ubisoft's Q1. Digital game sales, microtransactions, and subscriptions accounted for an astronomical 93% of total net bookings, raking in a hefty 292.4 million Euros ($332.16 million).
All publishers love digital earnings because they get to keep 100% of revenues generated on proprietary storefronts like uPlay, and it dramatically reduces costs. They also fuel the huge engagement model that puts emphasis on never-ending gameplay, grinding, and piecemeal purchases.
Read Also: PC is now Ubisoft's most lucrative platform
Ubisoft's Q1 FY2020 Financials At-A-Glance
Sales - 363.4 million Euros ($412.82 million) down 9.2% YoY
Net Bookings - 314.2 million Euros ($356.93 million), down 17.6% YoY
Digital Net Bookings - 292.4 million Euros ($332.16 million), up 1.9% YoY, representing 93.1% of total net bookings
PRI - 150.4 million Euros ($170.85 million), up 19.5% YoY, representing 47.9% of total net bookings
So what does this actually mean for Ubisoft's future?
More of the same, of course. This strategy is making the company tons of money and we shouldn't expect them to stop.
Expect to see live service hooks in every single Ubisoft game released now and in the future.
Some new games like Ghost Recon Breakpoint will have a stronger emphasis on monetized engagement via online hooks like repeatable gameplay, community-driven updates, rotating events, and multiplayer. Other primarily singleplayer-driven games like Watch Dogs Legion will be monetized similar to Assassin's Creed: Odyssey and Origins with optional item purchases.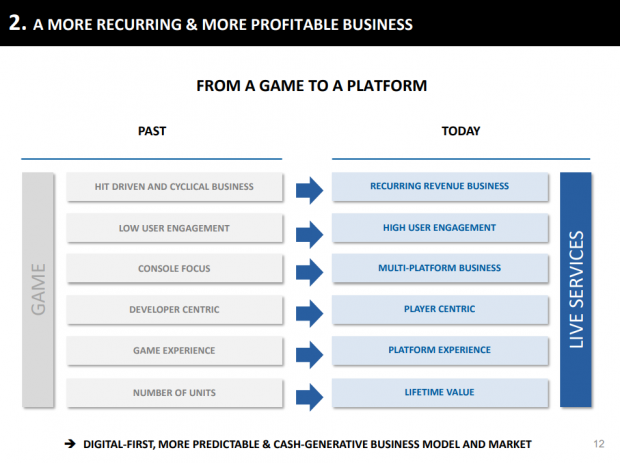 Now that every game is a live game, expect to see the titles dramatically unfold, evolve, and have a stream of what seems to be never-ending content. Assassin's Creed: Odyssey, for example, had a huge roll out of story-based DLC alongside a bunch of online events to keep players engaged and active--all of which was achieved without multiplayer.
In short, all of Ubisoft's future games will be stretched out via online mechanisms instead of self-contained slices of interactive play. Ubisoft's games aren't games any more, but platforms that cohesively connect and synergize with a huge churning sea of content.
There's a method to Ubisoft's madness, though, and it's been meticulously planned out over years now. And there's a key reason why Ubisoft's plan is working: they understand fun has to come first. All of the publisher's most successful games have emphasis on fun, proper progression and rewards, and a genuine quality-driven framework. This separates successful live games like Ghost Recon Wildlands from failures like Fallout 76 and Anthem.
First Ubisoft launched its uPlay store, then it tied live services into all of its games, a move that directly synergizes the two--buy games digitally via uPlay, play them, and then pay more over time for extras to fuel your experience. Now comes the next logical step: a dedicated recurring subscription for its online-driven games.
And thus the cycle continues and the wheel keeps on turning.
Ubisoft's digital empire is set to grow even further with its new uPlay+ subscription service on PC. uPlay+ is a $15 a month service that gives access to over 100 Ubisoft games both old and new, and aims to capture Xbox Game Pass' success. We recently outlined how massively important uPlay+ is for Ubisoft and how it's a transformative force for the games-maker's future.
Here's what Ubisoft CEO Yves Guillemot had to say about the Q1 earnings:
"Our first-quarter net bookings came in well above target, thanks to the very robust performance of our games ‒ notably
Rainbow Six Siege and Assassin's Creed Odyssey ‒ and a very strong increase in player recurring investment for PCs and consoles, led by record-high engagement levels per player. Our games line-up for fiscal 2019-20 - which also includes Rainbow Six Quarantine and Gods & Monsters - is one of our strongest in the last five years.
"In the coming years, Ubisoft is ideally positioned to seize the many value creation opportunities that lie ahead and therefore to generate strong revenue growth and further increase its profitability."