MSI has been making LIGHTNING series graphics cards for 10 years now, and in order to celebrate the milestone the company has unveiled that a new special edition of its GeForce TX 2080 Ti LIGHTNING graphics card will debut at Computex 2019.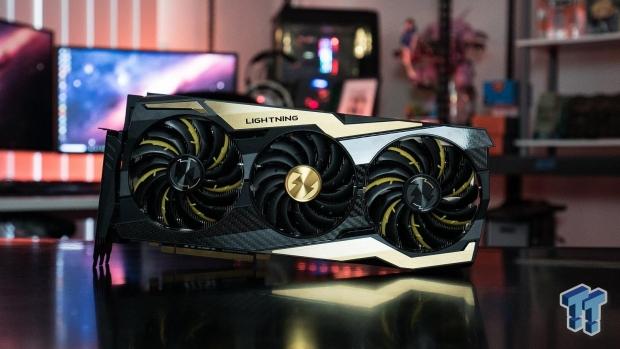 There's not much known about the new special edition MSI GeForce RTX 2080 Ti LIGHTNING Z graphics card, but if the normal version is anything to go by the 10th anniversary special edition card should be something very, very special indeed. We should expect nothing but the very best from MSI -- something we'll definitely be checking out on day one of Computex 2019 next week.
The very first LIGHTNING series card was the MSI GeForce GTX 2060 LIGHTNING back in 2009, the first graphics card to feature 5 heat pipes and the first with a metal cover and dual-fan design. It also featured the first integrated touch OC panel, and kicked off the entire LIGHTNING series family of cards from MSI.
MSI continued its LIGHTNING family with the GTX 275 LIGHTNING (this is where Afterburner 1.0 was born), GTX 480 LIGHTNING (thermal design really made a difference with this hot GPU, as well as Afterburner 2.0 release) and then the GTX 580 / GTX 580 Xe LIGHTNING which introduced a slew of new things. This includes the fist with dust remover technology, the first with the fan blades changing colors (under 60C = white, over 60C = blue) and first propeller blade (patent).
The next card was the GTX 680 LIGHTNING and then the champion that was the GTX 780 Ti LIGHTNING which introduced the first extra LN2 heat sink, triple fans, and LIGHTNING LED with loading display. From there we had the GTX 980 Ti LIGHTNING which introduced RGB into the LIGHTNING family, as well as Zero Frozr cooing technology and the style of the card changed to high-end luxury.
The last two LIGHTNING cards include the GTX 1080 Ti LIGHTNING Z and the still-fresh RTX 2080 Ti LIGHTNING Z, both of which are some of the best -- if not best custom RTX 2080 Ti cards you can buy.