Blizzard should bring more games to the Nintendo Switch
Blizzard now sees the Switch as a viable platform, and we should expect more ports.

Published Sat, May 18 2019 2:28 PM CDT
|
Updated Tue, Nov 3 2020 11:48 AM CST
Blizzard is excited about bringing more games to the Switch and now sees the transforming hybrid handheld-console as a viable platform.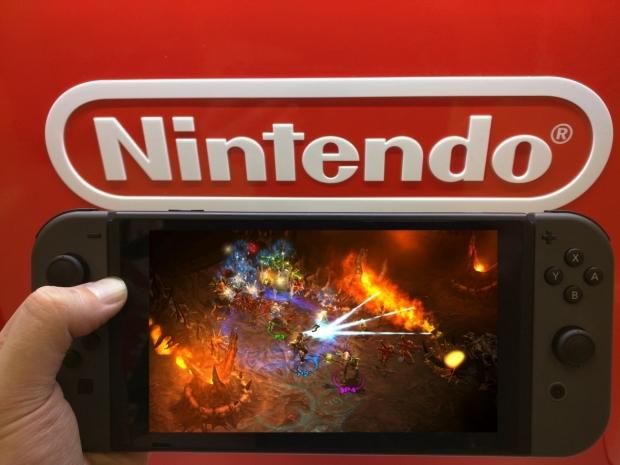 The Nintendo Switch is a huge win for many publishers. It's a new platform that's become a re-release machine in its own right, offering yesteryear games at full $59.99 prices for a new audience. Diablo III was one such game, and thanks to its strong sales and success with the Eternal Collection on the Switch, Blizzard should port more of its big hits onto the system.
In a recent interview with VentureBeat, Blizzard President J. Allen Brack affirms the company sees the Switch as a unique opportunity for ports and games. "It's not ridiculous [to think we'd make more Switch games]. We think of it as another platform. It has some unique properties that the Xbox and Sony platforms don't have. Thinking about what games make sense for that type of console is something we'll never stop doing."
The Blizzard president goes on to say how cooperative Nintendo has been with Diablo III's Switch port, which took a lot of tweaks to get running on the lower-end hardware--especially in handheld mode. Diablo III's console port in general took years to make and was a massive undertaking. With Nintendo's help, the Switch port wasn't nearly as hard (the foundation was already there) and it helped the company actually cares about filling its third-party release slate.
"Nintendo's been a great partner. We're a fan of that platform, a fan of Nintendo, a fan of the Nintendo IP, a fan of the Switch. It's a really good platform and it's really fun to play on. Different games have come about that are good experiences. Part of it is Nintendo love, plus thinking that the Diablo experience would be great on that platform."
So what games could cross over?
Blizzard is currently working on a number of high-profile projects including Diablo IV and a few unannounced projects. The company's release slate is "bigger than its ever been in our history," ex-Blizzard President Mike Morhaime said in 2017. There's also Warcraft remasters coming out too.
We should see some big announcements at Blizzcon 2019.
I'm betting we'll see more mobile-based experiences cross over. Diablo Immortal could launch on the Switch at some point, and Diablo IV could follow soon after. There's a possibility of an Overwatch port too, complete with online hooks and esports initiatives to fold directly into Nintendo's online-driven subscription service and Blizzard's own strong pro-gaming roadmaps.
Related Tags