Capcom drop StreetFighter V trial on Mortal Kombat 11 debut
Capcom have decided to try and take a chunk of players from Mortal Kombat 11's release.

Published Tue, Apr 23 2019 4:00 AM CDT
|
Updated Tue, Nov 3 2020 11:48 AM CST
The release of Mortal Kombat 11 is only a few hours away and as fighting game fans build that hype Capcom have decided to try and take a slice of NetherRealm Studios' pie.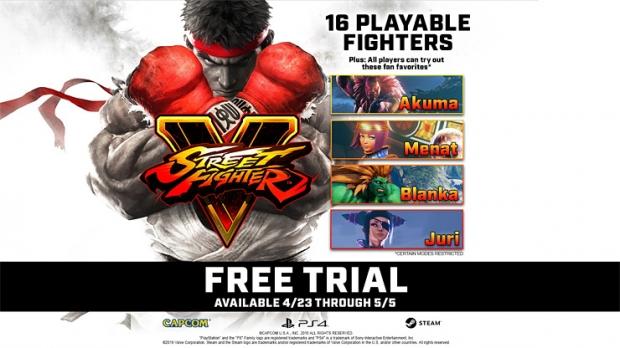 As I reported last week, Capcom announced that Street Fight V would be going completely free of charge for a limited amount of time on PlayStation and PC. The free trial period is scheduled to begin on April 23 and will last two weeks until May 5th. What will be included within the trial has been listed on the official Capcom blog, a link to that can be found here.
This might seem like a bit of cheeky move by Capcom but that is just what these companies do to grab audience, its classic marketing tactics for their products. It is unclear if the tactic will actually have a drastic effect on Mortal Kombat 11 sales, but I would assume that it certainly wouldn't be helping them. Mortal Kombat 11 recently had gameplay released for the Nintendo Switch, check that out here. There is also the Shao Kahn gameplay trailer if you want to see some bloody action mixed with "you suck" taunts.
Here is what will be featured in the Street Fighter V:
DLC Characters Unlocked - All 16 original characters included with the game are playable in the free trial, including classics like Ryu, Ken, Chun-Li, M. Bison and more! As a bonus, four fan-favorite DLC characters will be available for free during this trial: Akuma, Blanka, Juri and Menat! These four characters will only be available in Ranked, Casual, Battle Lounge, Training, and Challenges.
For those of you who already own Street Fighter V and Street Fighter V: Arcade Edition but have not yet acquired Akuma, Blanka, Juri or Menat, these four characters will be unlocked to you during the free trial period as well. If you decide to purchase any of these characters during the trial, you keep any progress made with each character.
Arcade - Introduced in Street Fighter V: Arcade Edition, this mode allows you to relive the past main entries in the series. If you're able to defeat all the computer-controlled opponents under various conditions, you can unlock over 200 unique illustrations from multiple artists which can be viewed in the Gallery.
Versus - Play against another local player or against the computer with different difficulty levels.
Challenges - Learn how to use each character in Demonstrations and Trials or see how long you can fight in Survival Mode.
Training - Practice against a dummy AI as you test out set-ups, combos and get used to a character without the pressure of a real match.
If you have friends or family who have always wanted to try Street Fighter V, let them know this is their chance!
Related Tags