Samsung's new Galaxy Fold screen breaks on FIRST day of use
Samsung Galaxy Fold breaking on its first day of use isn't a good look.

Published Wed, Apr 17 2019 10:51 PM CDT
|
Updated Tue, Nov 3 2020 11:48 AM CST
Samsung's new Galaxy Fold isn't quite available yet but the company has worked closely with reviewers and influencers hooking them up with some of the first handsets to the public. Well, it didn't go so good, and by 'not going so good' we mean some of them had their screens break on the first day.
The first Galaxy Fold review units that were sent out broke in the first day of use in the hands of people like Steve Kovach from CNBC, popular YouTuber MKBHD, Bloomberg, and The Verge. So you can see a blend of YouTubers, mainstream media, and big tech sites. There is reportedly a layer on top of the Galaxy Fold's display that is not a screen protector, and users are warned not to remove it. Well, some have tried and in MKBHD's own words he got only a little way of peeling it off before the "display spazzed and blacked out".
The thing is that Samsung actually has a 'wrap' over the screen on the Galaxy Fold that warns: "The main screen includes a special protective layer. Peeling off the protective layer or using any adhesives on the main screen, such as screen protectors or stickers, may cause damage". Ouch.
If this is happening to the first wave of Galaxy Fold smartphones to the reviewers and influencers who are meant to have nothing but gushing over it to drive up hype and equal marketing for Samsung, this isn't a good look for consumers when the Galaxy Fold launches on April 26. Who is going to spend $2000 on something that is now being reported on as DOA, in that the screen has a chance of breaking on day one.
After the issues Samsung had with the Galaxy Note 7 blowing up and catching fire and ultimately being recalled globally, the company doesn't need something this bad happening with the Galaxy Fold.
I'll continue to update you on this story as it unfolds. Get it? Unfolds. Ah, I crack myself up.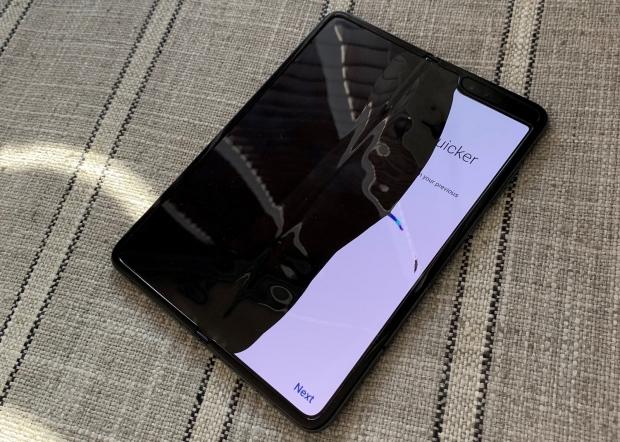 Related Tags