I've said it before, and I'll say it again: not every game should have live services. Fallout 76 proved Fallout shouldn't be a live game, for instance. Some RPGs just don't fit into this market. But online frameworks can bring exciting new features and expand a game way past its singleplayer limits. BioWare is currently experimenting such methods with Dragon Age 4.
BioWare has strongly indicated Dragon Age 4 will be a live game with ambitious content. According to a lengthy Kotaku exclusive, that focus hasn't changed. The current iteration of Dragon Age 4 will indeed have live service components aimed at engaging--and monetizing--players over time. On the heels of Anthem with its terrible grind and tedium, this sounds daunting. But with online services comes interesting opportunities to breathe new life into a fan-favorite series.
Live gaming brings all kinds of potential to any franchise. There's tons of stuff devs can do, like bringing online co-op to Dragon Age, for instance. Dragon Age: Inquisition had multiplayer, but it was segregated from singleplayer. With Dragon Age 4 the two may be merged in a way that expands the game in unique ways, creating a kind of globally-shared world that reacts, evolves, and changes over time. There could be massive raids, seasonal events, and even live-based narratives that see the story unfold over time. And of course an interactive online hub where players can trade, team up, and show off their latest cosmetic goods.
BioWare has already said they're interested in using "live storytelling" in future Dragon Age and Mass Effect games.
Essentially what the devs want to do is create an online environment that continually expands with new missions and quests. Rather than having to sell big expansions in one-off DLC purchases (that actually don't sell well), BioWare could release chunks over time and let gamers consume them in pieces.
Anthem was the start of this but ultimately failed to catch fire. Dragon Age 4 is built on Anthem's core framework and offers another chance to try again.
Here's what BioWare's Mark Darrah said at a PAX East 2018 panel:
"One of the things we've really done in Anthem is focus a lot of attention on Fort Tarsis [the in-game hub world]. [With agents and their interactions] it's the primary place of reactive storytelling. As a result we've pushed Tarsis further than we've ever pushed any of our hubs before," Darrah said.
"It's a more reactive space, a space that feels more living and alive, and I think going forward in future Dragon Age games or other games that you're going to see that reactivity, that depth, in our hubs that we've really been able to bring out in Anthem."
"One of the things the structure of the game lets us do is a lot more character storytelling after launch. In previous games, because of the content release structure, we didn't really know where you were in a relationship with a character, and it meant we had to write generically for characters."
This of course sounds great. There's so many different ways BioWare could expand Dragon Age using live services.
But there's one problem: BioWare doesn't understand engagement very well.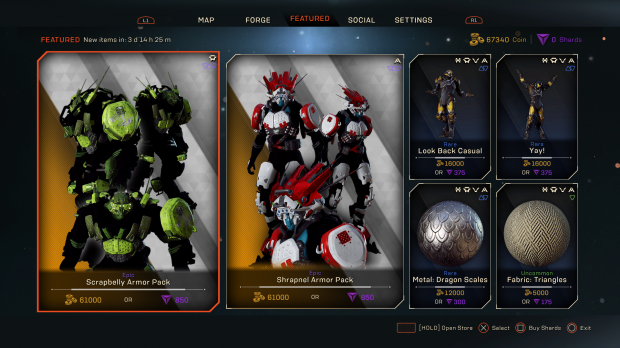 Anthem, BioWare's new shooter, tries to monetize cosmetics before it solves key foundational mistakes. This is often a terrible flaw for any service game and deters players.
Read Also: Why Anthem fails as a service game, and how to fix it
Anthem proved the studio is woefully behind when it comes to live services. The devs simply tried to monetize a game before it was actually fun, which manifested into a snakes nest of problems. Material gathering is tedious, grinding gear is fruitless and monotonous, and everything feels artificially elongated with the sole purpose of keeping you busy rather than actually enjoying yourself.
Anthem's live components are badly designed business-wise, and as such, they're not properly engaging. So before BioWare can even think about doing creative things with online frameworks, it needs to get the basic engagement cycle down pat. The whole point of making a live game is to make money off of players' enjoyment over time, but there's many different parts that all work in a cyclic, synergistic fashion.
Everything has to be balanced in a way that's rewarding, fun, and genuinely engaging. Players have to want to play your game, have to have a reason for it other than grinding out loot. There's got to be more substance, a soul, not just chasing the next randomized digital item. In short, your game has to have meaning before it can actually keep people interested.
So for Dragon Age 4 to be the game it could be, BioWare has to re-examine what it's done wrong and try to learn from its mistakes. It has to be very, very careful in adapting a huge singleplayer RPG into a multiplayer experience, and not carve out the best bits in the name of live services.
On that front, we full expect Dragon Age 4 to have total offline play and the online components be optional. We should see a tighter intergration of offline/online content via a Dragon Age Keep-style system/framework, but ultimately BioWare should still deliver that same robust singleplayer RPG everyone knows and loves.