Cyberpunk 2077 release date reveal possible for E3 2019
CD Projekt RED hypes up big E3 2019, may reveal Cyberpunk 2077's release date at show.

Published Wed, Mar 27 2019 7:33 PM CDT
|
Updated Tue, Nov 3 2020 11:49 AM CST
Cyberpunk 2077 will be the sole star of CD Projekt RED's E3 show, and we could finally get a confirmed release date.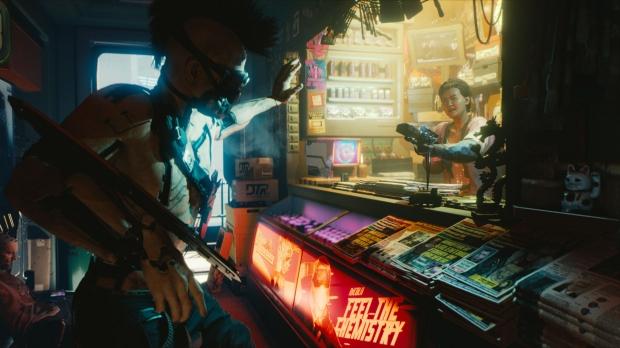 CD Projekt RED significantly hyped up its E3 presence in today's 2018 earnings report. Speaking to investors, the company promised to bring Cyberpunk 2077 surprises and affirmed this year's event will be the most important showcase it's ever put on.
"Last year's E3 has been the most important one so far throughout the whole CD Projekt history. But this year's is going to be the most important one ever for us, too," CD Projekt RED President Adam Kicinski said in the presentation. "We have really prepared a strong show. We want this year's E3 to be even stronger than last year's."
Although it's currently developing a new unannounced AAA RPG that's likely based around The Witcher, CDPR will only be talking about Cyberpunk at E3 2019. That new game will have its time...but it's not now.
"We are conscious of focusing on Cyberpunk only. We want the whole world to focus on what Cyberpunk is or what it will be to create hype. Any sort of scattered communications is counterproductive from a business point of view," Kicinski said.
(Continued below)
Read Also: Cyberpunk 2077 may be PS5, Xbox Scarlett launch game
Work on Cyberpunk 2077 is far from over. The game has been in development since 2013 or thereabouts, but principle dev didn't start until The Witcher 3 was shipped. But even after many long years the massive project still grows and grows.
The company ramped up research and development spending by 70% in 2018 to help build the ambitious FPS RPG and compliment the game's high-end next-gen technology, and most of its internal dev teams are working on the game.
So when will get a reveal? No one knows for sure, but CDPR's president thinks E3 is a great place for those announcements.
When asked if E3 is a good moment to announce the launch of a game, Adam Kicinski said: "Yes, we agree with this assumption. E3 fairs for developers of big games are the best moments for announcements for big launches for games coming in the year. Cyberpunk's launch is the most important thing for us right now."
Kicinski says CDPR will have some surprises at E3, but Lady Gaga won't be showing up.
Related Tags