CD Projekt RED profits down 45% in 2018
Profits drop as CD Projekt RED spends 70% more on games development.

Published Wed, Mar 27 2019 2:38 PM CDT
|
Updated Tue, Nov 3 2020 11:49 AM CST
CD Projekt RED's yearly profits drop by nearly half as it increases spending to make big new games like Cyberpunk 2077.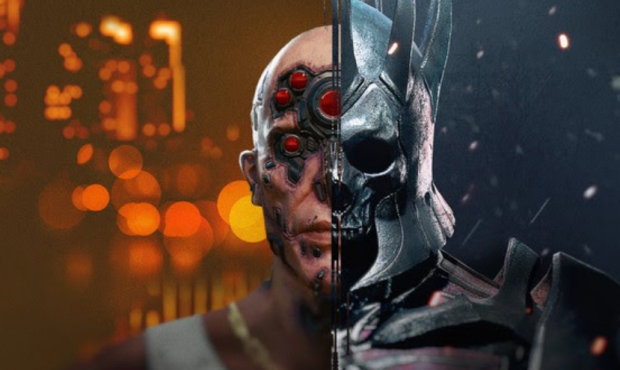 Today CD Projekt RED announced its 2018 yearly earnings which, while are overall healthy, don't compare all that well to last year. The good news is CDPR is far from being in the red.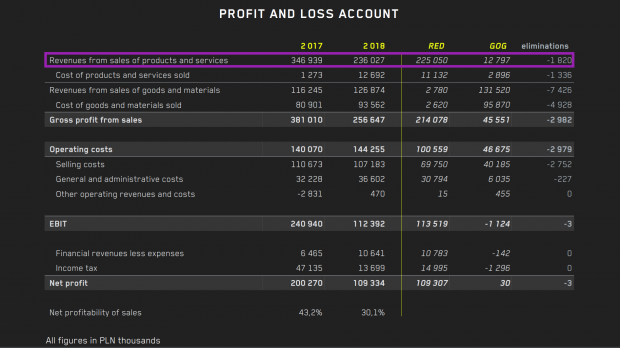 In 2018, The Witcher 3 developer saw its profits drop by 45% year-over-year to $109.3 million PLN ($28.6 million in current USD conversions) as compared to 2017's profits of 200.27 million PLN ($52.5 million). The company's profit margin for 2018 sits at just over 30% as compared to 2017's margin of 43.2%.
While sales revenue was down roughly 32% from last year, company Chief Financial Officer Pitor Nielubowicz says expenditures on marketing, publishing, and internal development costs across GOG and its own studios are the main culprit for lower profits. CDPR simply spent more on games development investments while earning less revenue from sales.
In 2018, CD Projekt RED spent 70% more cash on game development as it readies both Cyberpunk 2077 and another unannounced AAA RPG for release by 2021 (likely a Witcher game).
The company spent 242.8 million PLN ($63.7 million) on "expenditures on development projects" last year. In 2017, it spent 143.1 million PLN on these projects, or about $37.5 million USD. Over 70% of this R&D spending is for unfinished projects like Cyberpunk 2077. Luckily it received a nice tax break for these R&D projects that helped reduce costs.
CDPR also bought a new office in Warsaw, Poland that should expand its 800-strong company even further.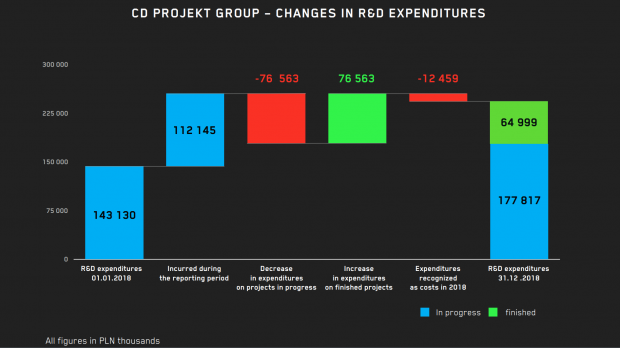 Read Also: GOG.com is barely making any profit
So what does this mean exactly?
Simply put, CDPR is making games but it's not playing around. Cyberpunk 2077 is the biggest investment and the biggest project CD Projekt RED has ever tackled and dev on the project is in full swing.
But it's not the only project the studio is working or spending on.
CDPR is developing another major RPG alongside Cyberpunk 2077 that should leverage the same next-gen technologies (high-end games engines, CGI/motion capture, lighting effects, world-building, etc.) but the company has yet to announce the project. It's possible we could see a reveal in 2020, and a launch in 2021 or thereabouts to give Cyberpunk some room to breathe.
These projects now command roughly 65% of CD Projekt RED's total workforce, and the company said it wants to have four different dev teams all working on different games.
"The dynamic growth in the Group's employment observed in 2018 is due to an expansion of the Group's activities and upscaling of its development projects. The CD PROJEKT Capital Group Strategy for 2016-2021 stipulates that by 2021 the Group will have established two major development teams and two smaller ones, each working on an independent project,"reads the document.
This huge spending could also mean Cyberpunk 2077 won't release in 2019. Since R&D and games development spending has spiked, this could indicate the game isn't ready yet and CDPR is injecting more funds to keep building their ambitious FPS RPG through 2019 and possibly beyond.
Related Tags