No, Disney won't make its own Star Wars games
Disney's new Lucasfilm Games jobs are administrative, not creative.
Published
4 minute read time
Disney has seemingly resurrected Lucasfilm Games, an old label dating before LucasArts. But it's not what you think.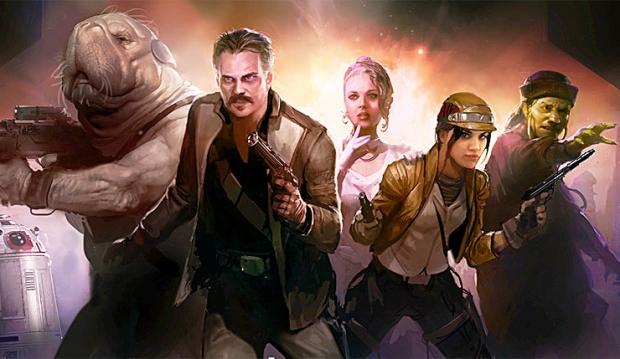 New job openings for Lucasfilm Games have sent some mixed signals. Gamers and industry reporters think this means Disney could start making its own games again, namely Star Wars titles, but this isn't the case. The seven jobs in question aren't for game developers, but for producers, marketing specialists, and brand coordinators--all the people who serve as administrative gatekeepers and manage, review, and approve the content, not actually create it.
These jobs are for the very same gatekeepers that made Star Wars games development so difficult. While working on titles like Star Wars 1313, Visceral's cancelled Project Ragtag game, and even EA Vancouver's scrapped big open-world game, developers had to run their ideas through middlemen at Lucasfilm. Every little decision would have to be approved by administrators (and before Disney bought Star Wars, George Lucas himself) before it made it into a game build. And often times these additions wouldn't even release in the final game.
This arduous process was responsible for many games being cancelled, delayed, and ultimately watered down over time--but such as the nature of the games industry, especially Star Wars games in particular.
All you have to do is look at the language used in each job listing. The context of the positions are quite clearly administrative in nature and don't indicate Disney is ramping up its own game dev studios again. Here's a snippet from the producer job:
"The Producer will be a highly motivated individual responsible for managing the review and approval of interactive products that incorporate Lucasfilm IP, such as Star Wars film and television properties, across all digital platforms, including but not limited to: Mobile (iOS, Android, Windows), Console (Sony PlayStation, Microsoft Xbox, Nintendo Switch), PC/Mac, and AR/VR platforms."
Associate Brand Marketing Manager
Read Also: Why EA closed Visceral and recycled its Star Wars game
Disney has said it wants no part in making games in IPs like Star Wars. Internally developing games is a messy, convoluted and costly process for massive IPs like Star Wars (LucasArts has a rocky history of Star Wars games) and Disney is much more comfortable with licensing its franchises out to big publishers. That's why it signed a 10-year exclusivity deal with EA, whose multi-studio dev teams are equipped to handle such projects.
In a recent earnings call, company CEO Bob Iger confirmed to investors that Disney will leave all games development to external partners. Instead of making its own games, Disney will license its IPs to developers and publishers.
"We're obviously mindful of the size of that business. But over the years, as you know, we've tried our hand in self-publishing. We've bought companies. We've sold companies. We've bought developers. We've closed developers."
"And we found over the years that we haven't been particularly good at the self-publishing side, but we've been great at the licensing side, which obviously doesn't require that much allocation of capital. And since we're allocating capital in other directions, even though we certainly have the ability to allocate more capital, we've just decided that the best place for us to be in that space is licensing and not publishing."
Despite the controversy surrounding EA's games and the fractured timeline of releases (only two out of the four planned Star Wars games have been released so far), Disney says it's happy with its relationship with EA.
"We've had good relationships with some of those we're licensing to, notably EA and the relationship on the Star Wars properties. And we're probably going to continue - we're going to continue to stay in that side of the business and put our capital elsewhere," Iger said in the call.
"We're good at making movies and television shows and theme park attractions and cruise ships and the like, and we've just never managed to demonstrate much scale on the publishing side of games."
Jedi: Fallen Order, the next Star Wars game in EA's big multi-year deal, is due out sometime in 2019. Respawn Entertainment, who's developing the game, promises larger-than-life action and a riveting third-person adventure set in a new unexplored timeline.
Related Tags