Battle royale games to make $20 billion in 2019
Battle royale games are money-making monsters.

Published Fri, Mar 8 2019 2:17 PM CST
|
Updated Tue, Nov 3 2020 11:49 AM CST
Battle royale games like Respawn's mega-hot Apex Legends, Epic's billion-dollar Fortnite, and PUBG will rake in over $20 billion in 2019, analyst firm SuperData predicts.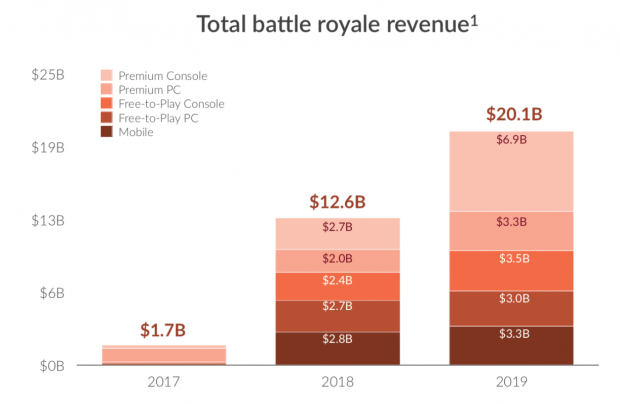 According to SuperData's latest report, the battle royale genre is set to explode in 2019 by earning $20.1 billion across all platforms. This represents a mighty 60% year-over-year increase over a year that saw tremendous BR growth; battle royale earnings skyrockted by 625% from 2017 to 2018.
Surprisingly enough, buy-to-play BR games like PlayerUnknown's Battlegrounds and Black Ops 4's Blackout mode are expected to earn the lion's share of 2019's BR revenue with $10.2 billion, or around 50.7% of total earnings. Console will lead other platforms by raking in $10.4 billion, SuperData predicts, with PC coming in at second with $6.3 billion, and mobile, which typically towers above all others, checking in at just $3.3 billion.
These numbers may actually grow as more shooters and games tap the BR craze. DICE will launch Battlefield V's Firestorm battle royale mode soon, and Apex Legends could boosts monetization once it releases on mobile phones.
A long time ago we predicted PUBG could be squeezed out of the market as AAA devs entered the battle royale craze, and it's happened quite fast. Epic Games, Respawn, DICE, and Treyarch have all pushed (or will push) past PUBG with their respective games.
Even Dark Souls developer From Software is interested in making battle royale games.
Related Tags