USB Promoter Group announces next-gen USB4 specification
USB4 specification teased, continues to ride Thunderbolt with up to 40Gbps of bandwidth.

Published Mon, Mar 4 2019 8:12 PM CST
|
Updated Tue, Nov 3 2020 11:49 AM CST
If you weren't already confused about USB and its last moves with the USB 3.2 standard then buckle up, because things are about to get more confusing. The USB Promoter Group, which is the standards body of the USB specification, has announced the new USB4 standard.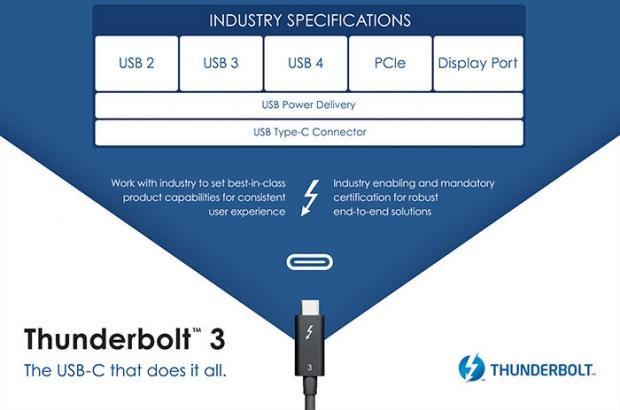 The new USB4 standard will be fully detailed in the coming months, but for now we know there will be a doubling in bandwidth from 20Gbps over USB 3.2 Gen 2x2 to a huge 40Gbps under USB4. USB4 will rid itself of the Type-A connector and move into the world of USB-C which will unify things on top of pumping a huge 40Gbps of bandwidth around.
The slightly confusing part is that USB4 is not just a new standard, but it is a new speed and connection standard.
Intel just recently held an event in Taiwan where it unveiled the new spec, where it has offered open licensing on its Thunderbolt 3 technology, making it royalty free for third party companies to use. This means we'll see the Thunderbolt 3 standard teaming with USB4 for one cable connectivity for all things high bandwidth including external GPUs, networking products, docks, PCI expansion and much more.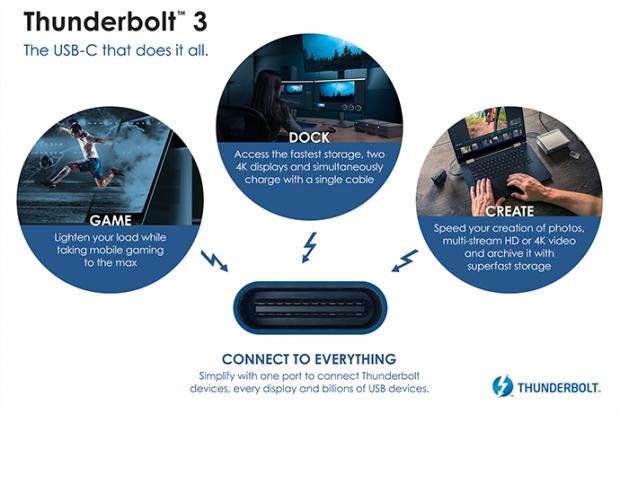 There are over 450 devices on the market with Thunderbolt 3, so seeing this extend with Intel stepping up with royalty free use of the standard and USB4 joining the fray, the world of connecting everything through super-fast USB4 connectors is an exciting one. All USB4 devices and ports will support Thunderbolt devices.
However, there are some questions to ask going forward - Intel has made its Thunderbolt 3 technology royalty free, but AMD is heavily competing in the CPU and chipset game now and even more so this year with Ryzen 3000 series processors and the X570 chipset with the debut of PCIe 4.0 connectivity. This is where things enter a new level of trickiness.
Intel might be making its Thunderbolt 3 technology royalty free but it's not giving up all of its control over the super-fast connectivity standard, as the USB Promoters Group comprises of Apple, Hewlett-Packard, Intel, Microsoft, Renesas, ST Microelectronics and Texas Instruments. You won't see AMD on that list, which means AMD won't natively have USB4 inside of its chipsets and will instead rely on Renasis, ST Microelectronics, or TI to make their own discrete USB4 product and sell it to AMD.
We'll see Intel build Thunderbolt 3 support into its upcoming Ice Lake CPU architecture later this year, and then we'll see AMD Ryzen-based systems launching with USB4 through other means, it just won't be built into the chipset.
USB power delivery numbers haven't been provided, but we should see an upgrade from the current 100W limit, longer USB4 cables that handle the high-end 40Gbps bandwidth, and more. We should hear more about USB4 as it is formed into its final spec later this year.
Related Tags