It seems that the days of straightforward standard naming are behind us, with USB-IF determined to rename both the USB 3.0 and USB 3.1 standards to USB 3.2. Back when USB-IF renamed USB 3.0 (5Gbps) and USB 3.1 (10Gbps) to USB 3.1 Gen 1 and USB 3.1 Gen 2, many people were confused as to why they would rename a standard that was so easy to understand.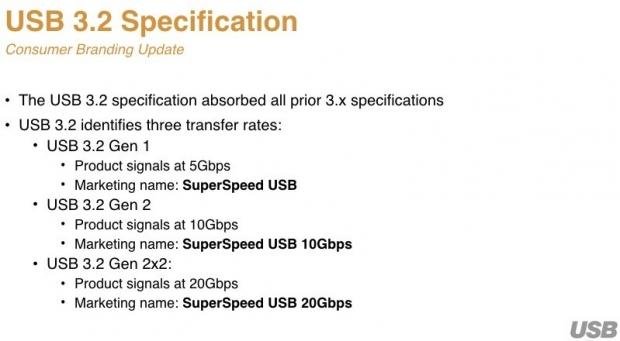 It seemed like a marketing move to intentionally confuse consumers, and it seems like they are going to do it again. USB 3.1 Gen 1 (5Gbps) will be renamed to USB 3.2 Gen 1, USB 3.1 Gen 2 (10Gbps) will be renamed to USB 3.2 Gen 2, and the actual new 20Gbps standard will be renamed to USB 3.2 Gen2 x2, which will be two lanes of USB 3.1, USB 3.1 Gen 2, or USB 3.2 Gen 2 depending on the time of the year.
We also learned from a USB-IF partner company rep on Reddit, that there will also be a USB 3.2 Gen 1 x2, which is two 5Gbps lanes, for a total of 10Gbps. While USB-IF has said that the marketing names for these ports will be SuperSpeed USB (5Gbps), SuperSpeed USB 10Gbps, and SuperSpeed USB 20Gbps, we expect most device specifications and product markings to use the former naming scheme as most currently do.
As if the naming scheme for the ports wasn't confusing enough, the confusion with what cable a consumer should purchase to fully utilize their device still persists. We all know by now that not all type-C cables are alike, and that you really need to do your research to find a cable capable of high speeds, especially with USB 3.1 Gen 2 and Thunderbolt 3. Either way, we are happy to see progress with USB technology, but it's clear consumers will need to do more homework than before.