GeForce GTX 1180 could be RTX 2080 without ray tracing cores
NVIDIA's purported GeForce GTX 1180 makes a surprise appearance on GFXBench.

Published Wed, Jan 9 2019 7:30 AM CST
|
Updated Tue, Nov 3 2020 11:49 AM CST
NVIDIA already has four members in its GeForce RTX family of graphics cards with the just-launched RTX 2060, and previously launched RTX 2070, RTX 2080, and RTX 2080 Ti graphics cards. But what if you took the ray tracing cores out of the situation? Well, that could be what the purported GeForce GTX 11 series is after all.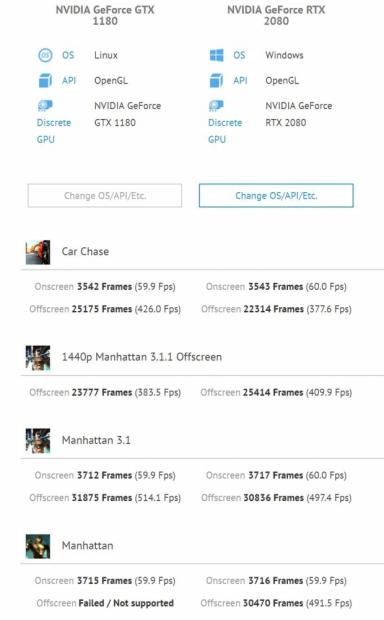 A new GeForce GTX 1180 graphics card has surfaced on GFXBench, with software recognizing the card as a GeForce GTX 2080 which means if this is real, it is an RTX 2080 with its ray tracing cores disabled. They're still there on-hardware with the Turing GPU, but they're disabled so that it's a nutured and RTX-less RTX 2080 in performance. It makes sense considering the GDDR6 performance gains over GDDR5/X as well, with a GTX 11 series something that makes sense when the GTX 10 series is finally phased out.
I think we'll see RTX 20 series cards mass produced with lower-quality dies having their Tensor and RT cores disabled and rebranded as GTX 11 series cards, something that will surely compete against the Radeon RX 590 from AMD as well as whatever the new Navi GPU ends up as being. Last we heard Navi will feature Vega-like performance, which means we should expect GTX 1080/1180 performance (RTX 2080 with RT disabled). Interesting if true...
Related Tags