Blizzard is dialing back its rapid development of Heroes of the Storm so it can focus on bigger games.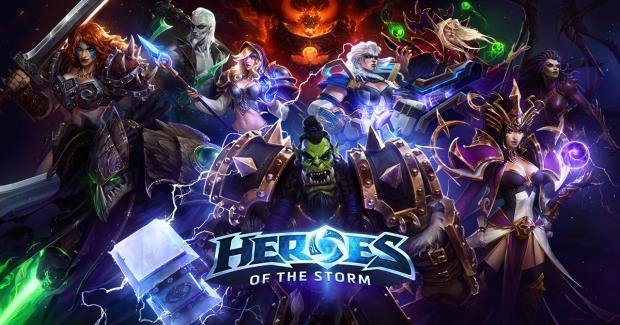 In a bid to change direction and push onward to potentially better things, Blizzard has cancelled Heroes of the Storm's eSports tournaments and is shifting some resources from the live game. The company announced the decision earlier this week, which sees Blizzard slowing down the game's updates and content rollouts. Heroes of the Storm isn't dying but is instead being stretched more thin across a longer period of time. New characters and events will still happen, the devs say.
This is nothing new for the games industry. Months before a game is finalized or even shipped, whole dev teams typically begin work on the next project. Live games that stagnate or lose their money-making potential follow a similar pattern as developers hop to other teams to work on new games. And we know Blizzard is working on a number of unannounced projects, including Diablo 4.
In 2017, ex-Blizzard President Mike Morhaime said the company's new IP pipeline is "better than ever" and strongly indicated exciting new games are on the way.
"We're also really excited about the future. In addition to supporting all of our live games we're committed to incubating new initiatives. We're also thinking about different platforms, especially globally," Morhaime said in a 2017 Activision-Blizzard earnings call.
"In terms of new IP, our pipeline is in a better position than ever before in our history," Morhaime affirmed, aligning with our previous reports on secret Blizzard projects."
Current Blizzard CEO Allan J. Brack echoed these words in the company's Calendar Year Q3'18 earnings call:
"Right now, we have the strongest multiyear pipeline we've ever had, which is a huge opportunity, and delivering against that pipeline is our number one priority."
Read more: Heroes of the Storm's turbulence proves that relying solely on eSports is risky for competitors
This pivot away from upkeeping live service games and push towards more actual releases means two things: Blizzard is trying to create more gateways into its live service ecosystem, and it's trying to do new things (the last bit is exciting).
And as new IPs and games are announced we'll likely see new characters and modes roll into Heroes of the Storm. The game is a melting pot for all of Blizzard's franchises and isn't going anywhere, but instead will grow over time as its franchises do. It's just slowing down so devs can move over to bigger projects.
The recent Heroes of the Storm announcement post also touched upon the new games in development:
"Over the past several years, the work of evaluating our development processes and making hard decisions has led to new games and other products that we're proud of. We now have more live games and unannounced projects than at any point in the company's history. We're also at a point where we need to take some of our talented developers and bring their skills to other projects.

"As a result, we've made the difficult decision to shift some developers from Heroes of the Storm to other teams, and we're excited to see the passion, knowledge, and experience that they'll bring to those projects.

"This isn't the first time we've had to make tough choices like this. Games like Diablo II, World of Warcraft, StarCraft II, Overwatch, and more would not exist had we not made similar decisions in the past."
Before we get too excited we should remember Blizzard is working on multiple new mobile games.
Activision says that most of its core IPs will be adapted into mobile in some fort, including Diablo via the ill-fated Diablo: Immortal game, as well as a new Call of Duty game for Chinese players.
That isn't to say Blizzard will abandon the core PC and console gaming audience--quite the contrary. It's biggest new unannounced games will aim for these platforms and mobile gaming will simply be ancillary. But it will definitely be a part of the pie for sure.