Red Dead Online beta resets may not happen, says Rockstar
Rockstar has 'no plans' to reset data during the RDO beta.
Published Dec 4, 2018 8:30 PM CST
|
Updated Tue, Nov 3 2020 11:50 AM CST
2 minutes & 7 seconds read time
Rockstar Games may not flip the reset switch during Red Dead Online's beta test, but a wipe could still happen after the mode's official launch.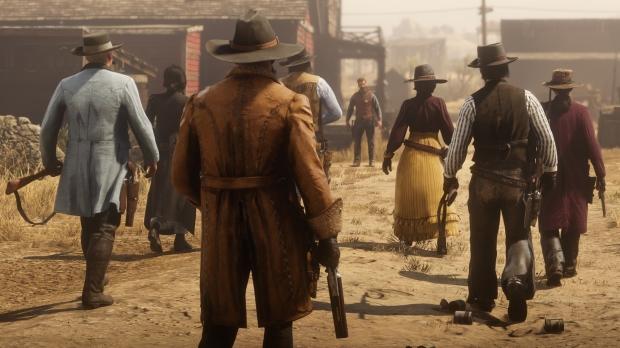 Red Dead Redemption 2's online beta is quite popular and it seems like nearly everyone who's bought a copy is playing it. Although Rockstar warned gamers that their Red Dead Online data--including character progression, weapons, and content--could get reset at some point, the developer doesn't think it necessary.
"We appreciate all the continued feedback we are receiving on the Red Dead Online Beta. For players concerned about the potential for progress and stat resets, we currently do not have any plans to reset them as part of the Beta's rollout," Rockstar said today on Twitter.
But don't take this as an official confirmation that wipes won't happen. Rockstar still could reset everything as it sees fit, and I think we'll see big server-wide wipes once Red Dead Online is ready for a finalized launch. My reasoning for this prediction surrounds microtransactions as well as balancing issues.
Read Also: Red Dead Online battle royale and PVP modes detailed
Red Dead Online's in-game microtransactions aren't live yet and gamers can't buy gold for real money. This could change in the coming months as Rockstar continually molds the live-driven experience, but if they're not switched on, then Rockstar should reset the switch. The rationale is simple: if everyone's on even playing ground then the appeal of microtransactions will be even bigger.
If a reset doesn't happen, Rockstar will have tons of higher-level gamers with powerful gear who've completed end game content, which typically throws off the balance for new players. There's lots of tweaks and things Rockstar can do to even things out, though.
But what about all the time you spent in the RDO beta? Shouldn't you be rewarded for it? If a reset does happen I think Rockstar will give out lots of free gold to everyone who participated.
The devs are (and will continue) using valuable player feedback to continually shape and mold Red Dead Online in these critical early days, and is already working on a big economy overhaul to balance the dismal time-draining currency dole outs. This update is scheduled to launch later this week, and regular patches will be issued in the weeks to come.
Related Tags