Red Dead Online battle royale and PVP modes detailed
Red Dead Redemption 2's online mode will have a variety of PVP modes to engage players during the beta.

Published Tue, Nov 27 2018 6:54 PM CST
|
Updated Tue, Nov 3 2020 11:50 AM CST
Red Dead Online is live today for select gamers, and includes five PVP modes alongside a dynamically-layered world full of missions and content.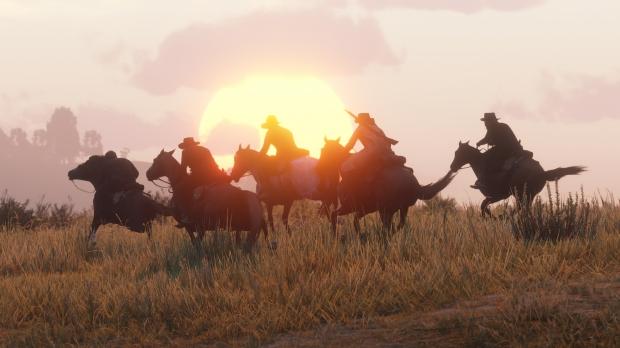 Red Dead Redemption 2's GTA Online-like multiplayer mode is on the horizon, but first Rockstar needs to stress test servers with a beta. The testing phase will be jam-packed full of content and comes with five PVP modes including a battle royale mode called Make It Count, which is like a minimalist BR mode. Make It Count starts players out with limited weapons like bows, arrows and throwing knives and forces players to compete in an ever-shrinking arena.
Other gametypes include: a classic deathmatch and team deathmatch combo, which has players dueling at high noon with shooting irons and other Wild West weaponry; a bounty hunter-esque mode called Most Wanted which is like Juggernaut from Halo; Hostile Territory, a land control mode that should be quite chaotic and fun; and Name Your Weapon, which has you select a personal deadly tool to use in FFA or team deathmatch action.
Red Dead Online will also feature seamless PVE and co-op missions that tie directly into the 1899 Western frontier. Players can roam around solo or with a posse of seven players and take on objectives, tackle radiant quests, or even go fishing and hunting.
Rockstar makes no mention of microtransactions, but it does say you'll unlock items as you play. It's these items that are likely to be monetized with microtransaction-style purchases (the same kinds we find in the PS4 exclusive pack).
"Unlock items and improve your attributes while you progress. You can also take on Award challenges throughout your open-world experiences to earn Awards in 12 categories like combat, hunting, sharpshooter and survivalist," Rockstar wrote in the update.
Here's the timeline when Red Dead Online becomes available, and a description of the PVP modes:
November 27: RDR2 ultimate edition owners
November 28: Everyone who played RDR2 at launch on Oct. 26
November 29: Everyone who played RDR2 in its first three days of release
November 30: All RDR2 players
Of course, Red Dead Online comes packed with all new competitive game play. The Beta includes 5 new modes at launch that are part of a larger series of Showdowns, and you can also enter your trusted steed into races including point-to-point, lap and open races strewn across the map.

Enter one of the Showdown Series Markers for fast matchmaking into a variety of modes:

Shootout & Team Shootout

Classic gunfight modes with unlimited lives. Compete to rack up the most kills before the timer runs out. Sudden death will trigger in the event of a tie: whoever gets the first kill wins.

Make it Count

A true test of resourcefulness in two game modes: use nothing but a bow and a handful of arrows or throwing knives to be the last one standing. With a gradually shrinking player area, there's nowhere to run.

Most Wanted

A tactical race to the top. Every kill pushes you up the scoreboard, but watch out: the closer to the top you are, the more points everyone else gets for killing you.

Hostile Territory

Work in teams to control the land. Capture a territory to start racking up points: the team with most points wins - or you can win outright by capturing every territory.

Name your Weapon

Demonstrate your personal specialty in this free-for-all or team based match: the trickier the weapon you use to land the killing blow, the more points you get.
Related Tags