Red Dead Online microtransactions may be cosmetic-only
Rockstar confirms Red Dead Online will have cosmetic monetization.

Published Wed, Nov 28 2018 10:03 AM CST
|
Updated Tue, Nov 3 2020 11:50 AM CST
As we already knew, Red Dead Online will be monetized similar to Grand Theft Auto Online. But it may use cosmetic-only microtransactions instead of content that affects the game (for now, at least).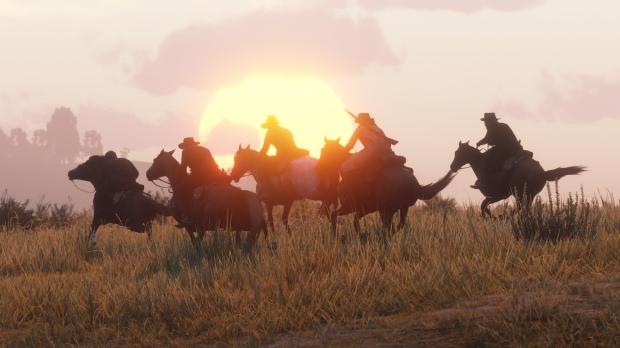 The Red Dead Online beta has revealed key info about its microtransactions. In an update post, Rockstar confirmed RDO would have a premium currency called "gold bars" that can be purchased with real money when it launches. Gold bars can be earned in-game during the beta, but can't yet be purchased with real cash. As Rockstar explains, this currency is used to unlock various cosmetics such as camp customization items and weapon flair:
"You may notice some areas of the in-game menus are not yet accessible or available during this early period of the Beta, such as the Red Dead Online in-game Store which will eventually open up to provide the option of purchasing gold bars to directly acquire cosmetic items like Camp decor, or a special style for your weapons," Rockstar wrote in an update post.
Read more: Red Dead Online battle royale and PVP modes detailed
There's no guarantee gold bars won't be used to buy items that affect the in-game world, though, such as weapons, ammo, and more. This would maximize monetization potential simply because gamers could pay to get better gear and boost revenue gains to propel new content. And of course it'd make Take-Two Interactive very happy by adding to the billions it earns from microtransactions every year.
Right now specific gear such as guns can't be bought with gold bars. But this could change. Gamers accrue cash as they play to buy more guns and weapons, but a shortcut option could be made available on the in-game store.
The PS4-exclusive Red Dead Online gear actually comes with boosted stats to give Sony players an extra edge in the game, which led me to believe RDO's microtransactions would blend cosmetic and a buy-to-win structure, not unlike Grand Theft Auto Online.
Attaining gold bars may be an incredible grind when Red Dead Online ships, however, thus pushing users towards buying them outright. The beta test has an incredibly slow earn rate that may or may not be adjusted before the final version launches.
All of this is subject to change as Rockstar continually tweaks and updates Red Dead Online's engagement strategy, but we should ultimately expect the mode to follow GTA Online's business model quite closely.
Related Tags