PS4's time exclusivity content in Red Dead Redemption 2 actually has a tangible affect on gameplay and isn't just cosmetic.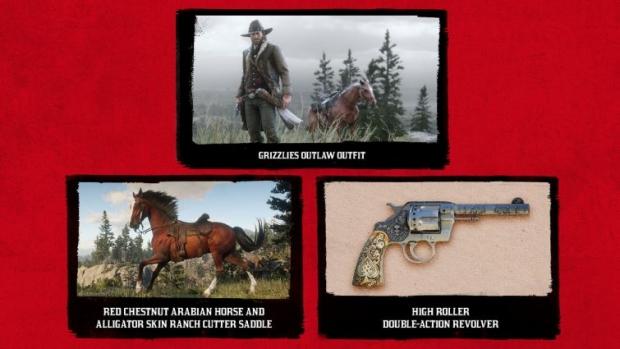 Shortly after Red Dead Redemption 2 was announced we knew the game would favor PS4 with early content. At the time (and shortly before today) I was sure this would simply be cosmetic items that change your in-game appearance, but this isn't the case. Sony today revealed the fruits of their marketing deal with Rockstar, detailing the extras PS4 owners will enjoy in both singleplayer and the game's multiplayer mode.
The only extra that doesn't seem to affect anything is the Grizzlies Law Outfit, which may be entirely cosmetic. But remember RDR2's clothing actually matters, i.a. Arthur needs to wear coats in colder climes, etc. The other three--a speedy horse, a saddle that boosts horse health and stamina, and a fast-shooting revolver--have a direct in-game advantage in Red Dead Online multiplayer component.
What's more is PS4 owners will have 30-day exclusivity on all of this content, so Xbox One owners can't access any of these pieces for a month's time.
Here's what PS4 players will get and how they affect the game:
Red Chestnut Arabian Horse - available at the launch of Red Dead Online

Known for its speed and handling, the Red Chestnut Arabian Horse is in a class above most horses you would find in the wild, with performance a step up from the first tier of available horses.

Alligator Skin Ranch Cutter Saddle - available at the launch of Red Dead Online

In addition to its stylish look, the Alligator Skin Ranch Cutter Saddle provides a number of benefits when equipped including core Health and Stamina boosts, which increase speed and acceleration for the horse. This saddle is an enhanced version of the basic saddle that comes stock for players when starting Red Dead Online.

High Roller Double-Action Revolver - available at the launch of Red Dead Online

Looks could kill: The High Roller Double-Action Revolver features a polished steel body with unique period-inspired, beautifully detailed engraving work. The deadly, quick draw revolver comes complete with unique playing card and skull elements carved into the grip. Its superior, quick rate of fire over all other revolvers makes it a great choice for mounted combat.
Since these things can be earned in the mode, this reveal hints that Red Dead Online's monetization won't be cosmetic-only.
It could instead follow a similar path to GTA Online, which allows users to either earn or purchase in-game currency with real money to unlock weapons and vehicles. A bit ago we predicted Red Dead Redemption 2 would feature a microtransaction storefront similar to GTA Online, and I'm curious to see how this plays out.
Red Dead Redemption 2 is slated to release on October 26, 2018 on PS4 and Xbox One. The game's online mode, Red Dead Online, will open in November as an ongoing beta test.