The PlayStation 4 has now shipped more than 85 million units worldwide, Sony announced in its Fiscal Year Q2'18 earnings.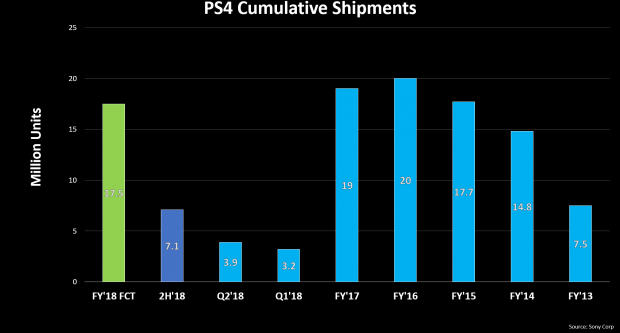 Sony's PS4 has reached a cumulative global sell-in of 86.1 million units, the company revealed in its recent fiscal earnings (remember this is shipments to retailers, aka sold-in, not direct sales to consumers). The games-maker shipped 3.9 million PS4s in the quarter ended September 30, 2018, down slightly 7.14% year-over-year and up almost 22% quarter-over-quarter.
Earnings from raw PS4 hardware sales were eclipsed by digital game sales and DLC/add-on content, as is usually the case. The company made about 126 billion yen from hardware in FY Q2'18, which comprises less than 25% of the total Games & Network Services segment earnings. Game software made roughly 57% of total segment earnings with 317 billion yen, and digital game sales/DLC pulled in over 81% of software sales with 259 billion yen (roughly 47% of total G&NS revenues).
Sony's trend of raking more revenue from software than hardware is typical of the games industry, especially given the PS4's existing high install base before each successive quarter. Gamers will always buy more games as time goes by but they won't necessarily buy new consoles if their existing system still works.
The Japanese tech giant expects to sell 17.5 million PlayStation 4 consoles in the fiscal year ending March 30, 2019, up 500,000 units from last quarter's forecast.
The company has currently sold-in 7.1 million units across FY18 and must sell 10.4 million systems to meet its goal--something that shouldn't be too hard with Black Friday and the holiday season just around the corner.