Super Smash Bros. UItimate leaker: Incineroar is still 'in'
Super Smash Bros. Ultimate leaker says 'Incineroar is in' despite the recently leaked image not showing it.

Published Fri, Oct 26 2018 1:00 AM CDT
|
Updated Tue, Nov 3 2020 11:50 AM CST
The Super Smash Bros. community is touching the ceiling in terms of hype, as a recent leak surfaced online revealing what is to be believed the final roster for the release of the game. Despite Incineroar being no where to be seen in the leak, a well known leaker still believes Incineroar is still "in."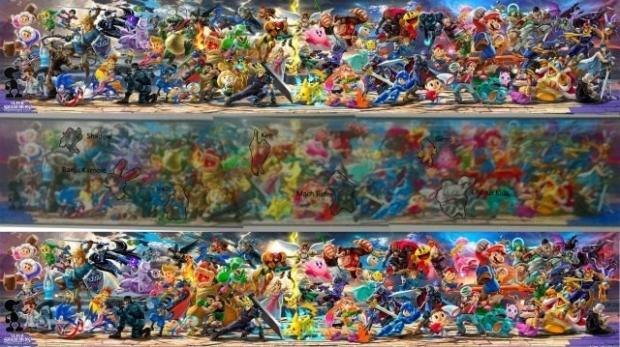 The image leak happened yesterday, where a 4Chan user uploaded what seems to be a Snapchat image of a promotional banner for Super Smash Bros. Ultimate. The image was quickly re-uploaded everywhere and people began their attempts at debunking it, if you are interested in the evidence for/against the leak, a great summary has been provided on the /r/NintendoSwitch sub Reddit.
Now that you have a little background on the leak, let's address the comment of a well known leaker throughout the Smash community. The leaker is named Vergeben and he called that Metroid's Ridley would join the roster, Castlevania's Simon Belmont would be an addition and also the return of every character from previous Smash Bros. titles, dive into more of that here. Credentials now out the way, Vergeben has spoken out about the recently leaked image that is kicking around the Smash forums. He has said that despite the absence of Incineroar in the leaked image he still stands by his sources, saying "In case people need me to repeat myself, Incineroar is in."
Many fans following the Smash leaks have said that Vergeben's sources have been false due to the leaked image surfacing and not including Incineroar. Some fans have even gone as far to attack the leaker for spreading what is being considered as "false information." Have they considered that Incineroar could possibly arrive as a DLC character? and would this mean that he isn't included within the leaked image if it was to be confirmed to be real?
Literally no one knows (except Nintendo), which means no one is technically "wrong" just yet, everything is up in the air at the moment until we get another Smash Ultimate Direct which should clear up all the details people are fighting over. Super Smash Bros. Ultimate is planned for released on December 7th exclusively for the Nintendo Switch.
In other news about Super Smash Bros. Ultimate, Nintendo dropped a brand new trailer in the middle of these leaks coming out, if you happened to miss that, check it out here.
Related Tags